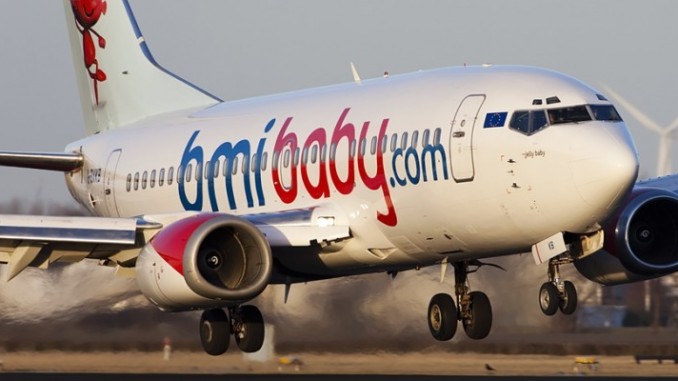 In the early 2000s, airlines across the globe faced a challenge from the low cost carriers. In response, many went and created their own low cost airline. Stateside, Delta created Song and United created Ted. Across the pond the situation was no different. Enter British Midland International or more commonly known as BMI. Facing the challenge of competing with European low cost carriers Ryanair and Easyjet, BMI created BMIbaby.
Similar to Song and Ted in the U.S., BMIbaby was a whole owned subsidiary of BMI. Baby was founded in early 2002 was made to focus on holiday destinations. As such BMIbaby's first route was between East Midlands Airport and Malaga in Spain. The airline was successful and throughout the airline's first few years expanded and created bases across the UK for operations to holiday destinations.
At the airlines peak in 2005 the airline had five bases across England and Wales. In 2007, the airline attempted to appeal to the business traveler in the UK. In a similar approach to what many airlines offer now, BMIbaby allowed passengers to choose the services they wanted, such as lounge access and flexible tickets. Also it was announced that passengers on the airline could earn miles with BMI's loyalty program Diamond Club.
In 2008 the airline was forced to make cutbacks due to the economic conditions. People were taking less vacations and the airline was forced to cut five routes from their largest base in Birmingham. Further cuts were forced in 2009 when the fleet was to be reduced from 17 to 12 aircraft and up to 158 jobs were at risk for redundancy. At the time, BMIbaby was experiencing record losses, with less people flying on holidays and an increase in oil prices around the globe.
In 2011 BMIbaby was forced to close two bases to focus on their main bases in Birmingham and East Midlands and the opening of a new base in Belfast. Also that year British Airways owner, IAG announced that they had come to a deal to purchase 'baby's' parent BMI. The deal included that a buyer would be found for BMIbaby and for BMI Regional. In early 2012 a deal appeared to be in place for a UK company to purchase BMIbaby. However, the sale was not completed in time and 'baby' became part of IAG.
However, by May of 2012, a buyer was still not found for baby and IAG announced plans to close the airline by September. On September 9th, 2012 the last BMIbaby flight landed, a return of the airline's first flight, and with that ended a decade-long run by the airline. With the closure almost 800 jobs were lost. Although BMIbaby was just a subsidiary of a major airline, their unique brand and low fares provided them with a unique selling point in the UK holiday market.

Daniel has always had aviation in his life; from moving to the United States when he was two, to family vacations across the U.S., and back to his native England. He currently resides in South Florida and attends Nova Southeastern University, studying Human Factors in Aviation. Daniel has his Commercial Certificate for both land and sea, and hopes to one day join the major airlines.

Latest posts by Daniel Morley (see all)