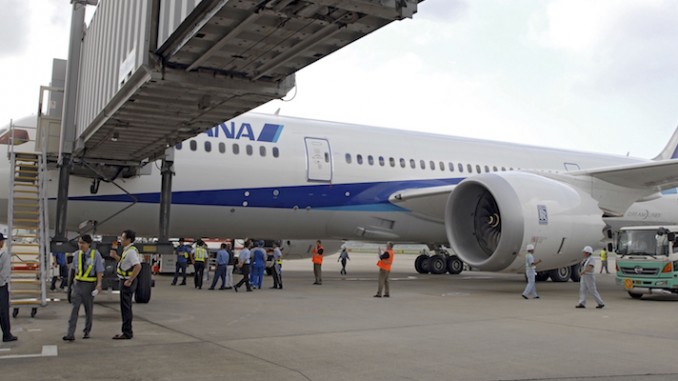 On January 11, 2016, All Nippon Airways became the first airline to complete 100,000 flights in the Boeing  787 Dreamliner. Upon arrival at Sea-Tac International Airport, the milestone flight was celebrated with a special gate ceremony.
"The 787 Dreamliner has played an important role especially in forming the backbone of our international fleet," said ANA president and CEO Osamu Shinobe. "Reaching the 100,000th revenue flight milestone with the 787 Dreamliner is a significant milestone for ANA. As the largest customer of the 787, we look forward to introducing the entire family of Dreamliners into our fleet as we aim to celebrate another 100,000 flights and beyond."
ANA is currently the largest operator of the Dreamliner, with 44 presently in their fleet, according to Boeing. In 2011, the airline was also the launch customer for the 787 family. Since acquiring the airplane, ANA has launched numerous additional international routes, which was accomplished financially in part by the 787's fuel-efficient composite design.
Boeing also shares ANA's enthusiasm toward the milestone. "We are honored to celebrate this important milestone with ANA, especially here in Seattle," said Boeing president and CEO Ray Conner. "ANA is a valued Boeing customer and has been a tremendous partner on the 787 program. This milestone demonstrates the strength of our long-standing relationship and we look forward to celebrating many more milestones with ANA going forward."
Ashley is currently a senior in high school and plans on pursuing a career in aviation or journalism. Her favorite airplanes include the Boeing 777, 737MAX, and Airbus A350. She enjoys taking flights on various airlines to different airports and planespotting at her local airports.
Latest posts by Ashley Magoon (see all)