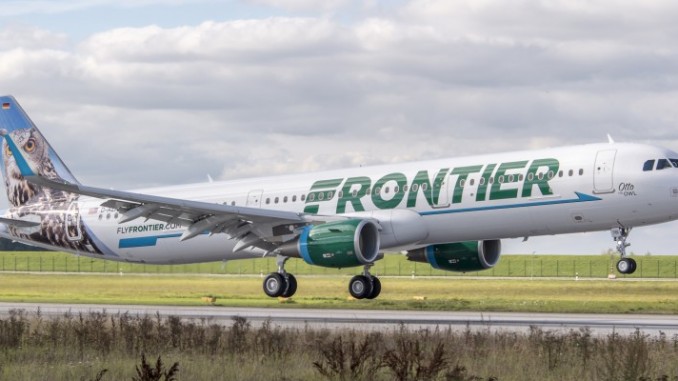 Frontier Airlines has quickly become the third largest low-cost carrier in the nation, finding a unique niche as it has slowly moved into the ultra-low-cost carrier model. The airline shocked many travelers as it unveiled a whopping 58 new routes last week and solidified itself as the brand of choice for leisure travelers. However, Frontier did not start this way, and has transformed its business model, cities served, and aircraft type since its inception in 1994.
A Quick History
Unlike other carriers in the early 1990s, Frontier had the luxury of being founded from the ashes of its previous self. The airline shares the same name as its predecessor, which was founded in 1950. While the original Frontier was purchased by PeopleExpress and eventually crumbled in bankruptcy, several executives from Frontier felt as though their was an opportunity for a new airline. At the time, Continental had removed its hub at Denver Stapleton Airport, leaving a major gap and unique opportunity for the airline.
Frontier was quick to expand in Denver, utilizing Boeing 737 aircraft as well as leasing both Airbus A318 and A319 aircraft. It made the decision in 2001 to include DirectTV service in-flight, as well as quickly becoming an all-Airbus airline after retiring its Boeing 737s. In a bid to expand even quicker, Frontier signed an 11-year deal in 2007 with Republic Airlines to offer regional service on-board the Embraer 170 aircraft.
However, due to some issues with its credit processing company, First Data, Frontier unexpectedly declared bankruptcy in April of 2008. This was due to First Data demanding more cash collateral during a difficult time in the market. Frontier was able to declare Chapter 11 bankruptcy to provide protection against this surge in required collateral, but not without an interesting twist. Frontier's partner,  Republic Airways, put out a bid to buy out the airline for a cool $108 million. To add to the drama, Southwest Airlines jumped in, saying that it wanted to purchase the carrier as well and eventually fold it into the growing Dallas-based airline. Finally in August of 2009 it was announced that Republic Airways had won the bidding war, and Frontier was purchased and quickly merged along with Republic's other purchase, Midwest Airlines.
The airline began going through a difficult period as Republic realized that Frontier's mainline routes were not its "bread and butter" system, as it preferred its regional operations. Republic slowly began transforming the carrier from a low-cost carrier into an ultra low-cost carrier. This meant that the airline would charge rock-bottom fares coupled with fees for all additional bags and snacks. After several years of Frontier being controlled by Republic Airways, it was announced in October of 2013 that private equity firm Indigo Partners would be purchasing the airline, and began further accelerating the move to becoming an ultra low-cost carrier.
Trial and Error at Hub Cities
Staying true to its roots, Frontier has found great success in its hub at Denver International Airport. However, the airline has experimented with several other small hubs across the nation. In 2012, Frontier announced that it would begin operating flights to Trenton-Mercer Airport, an airport that at time had no commercial air service. The plan was for the airport to compete with carriers at the nearby Philadelphia International and Newark International.
In 2013, Frontier took its plan one step further and announced service to New Castle Airport in Wilmington, Delaware, again to compete with service to Philadelphia. Unfortunately only a few years later, Frontier determined that flights to New Castle were not profitable and ended all service, as well as reduced service to Trenton in favor of more flights to Philadelphia.
Frontier has also begun experimenting with building more service to fill unique voids, such as Cleveland, OH and Orlando, FL. Cleveland was once a hub for Continental and later United Airlines before being de-hubbed in 2014. Orlando has become a great city for Frontier as tourists have flocked to find low-cost travel to entertainment venues such as Disney World and Universal Studios. Most recently Frontier has also begun offering service from Atlanta, going head-to-head with Delta Air Lines.
Aircraft, Crew, and Low-Cost Service
Frontier operates an all-Airbus fleet, and plans to keep it this way with purchases of both the A319neo and A320neo models in the near future. Similar to Southwest Airlines, it has found significant efficiencies in offering very few models of aircraft.
In order to save on costs and maintain its ultra low-cost model, Frontier has made several decisions that effect its workforce. In early 2015, the airline announced that 1300 of its employees, or 1/3 of its workforce, would be outsourced to other companies. This included much of its ground workforce based in Denver, and came as a shock to those who still considered Frontier to be Denver's hometown airline.
Finally, similar to most ultra low-cost carriers, Frontier is able to make significant margins as it charges low costs for tickets, but more than makes up for the price with bag fees, drink fees, snack fees, and more. In 2015 Frontier posted the 5th highest net profit in the US and the 7th highest in the world, further showing that its unique model provides benefits to those who invest in the airline. It is still currently managed and owned by private equity firm Indigo Partners, but rumors have continued for either an initial public offering, or a potential merger with Spirit Airlines.
The Bottom Line
Whether or not Frontier decides to merge with Spirit, it has carved a unique niche into the airline industry history books. It is able to serve customers at a lower cost than many of its competitors, and continues to grow with new routes and new destinations each year. While many will debate whether it is sustainable growth, at the time it appears that Frontier will continue on its quest to bring ultra low-cost travel to all.

Joe joined AirlineGeeks in 2014, and in his current role as Editor-in-Chief manages a growing team of writers both in North America and Europe. He enjoys spending the bulk of his time researching, learning and analyzing the latest trends in the airline industry, all while mentoring new members of the AirlineGeeks team who seek to do the same. Areas of research include revenue management, codeshare and alliance partnerships and airline financial results.

Latest posts by Joe Pesek (see all)