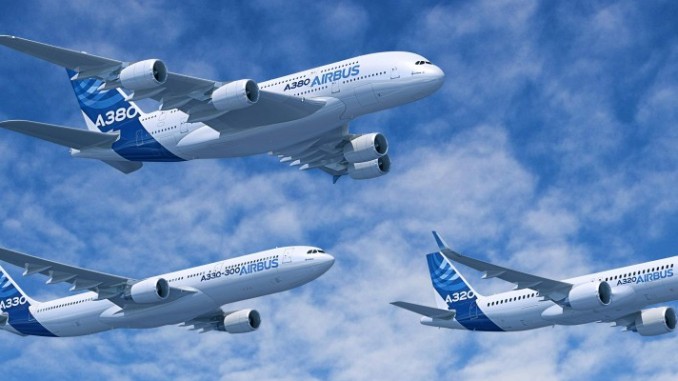 January 28, 2016, was not only a big day for Iranian aviation but also for the Airbus Corporation. Not only did Iran place an order for 118 new aircraft, but all 118 airframes were also placed in a single order with Airbus. The order consists of 73 widebody jets and 45 single-aisle jets from the company. The agreement includes 21 A320ceo family, 24 A320neo family, 27 A330ceo family, 18 A330-900neo, 16 A350-1000, and 12 A380-800 jets.
The order, said to be valued at $25 billion, is the first order Iran has placed with a Western manufacturer since and embargo was put into place in 1995. As of print time, no official delivery schedule has been set, however, deliveries are rumored to start within four years.
The agreement was signed at the Elysée Palace in Paris by Iranian President Hassan Rouhani, who was in France for a visit with French President, François Hollande. The order also includes pilot and maintenance training and support service to help with the entry into service. Along with the aircraft agreement, a deal was signed with Airbus for a comprehensive civil aviation co-operation package.
The co-operation package was signed by the Iranian Minister of Roads and Urban Development, Dr. Abbas Ahmad Akhoundi. This package will assist the modernization of Iran's civil aviation sector through the support of the development of air navigation services (air traffic management), airport and aircraft operations, technical training, and much more.
In a press release from Airbus, Iran Air CEO and Chairman, Farhad Parvaresh stated, "Today's announcement is the start of re-establishing our civil aviation sector into the envy of the region and along with partners like Airbus we'll ensure the highest world standards."
This announcement comes shortly after the lifting of many restrictions on Iranian aviation due to the implementation of the Joint Comprehensive Plan of Action (JCPOA), also known as the Iranian Nuclear deal on January 16, 2016.
Jace has been working at AirlineGeeks for nearly three years. Born in Seattle, Boeing and aviation quickly took over his life and he never stopped looking up. Jace enjoys plane spotting and taking trips just so he can fly. He is currently studying at Embry-Riddle Aeronautical University while earning his Bachelors of Science in Air Traffic Management.
Latest posts by Jace Moseley (see all)