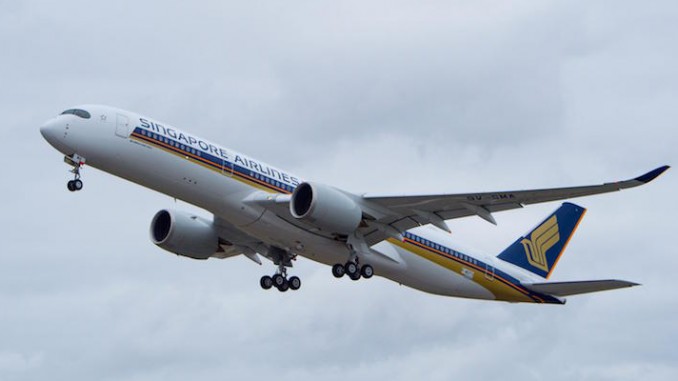 Singapore Airlines will take delivery of its first Airbus A350-900 on March 2, which will arrive in Singapore on March 3. The airline currently has 63 firm orders for the jet with options for 20 more.
After delivery, Singapore will operate the aircraft on crew familiarization flights between Singapore and Kuala Lumpur, as well as between Singapore and Jakarta. After these flights, the inaugural long-haul service of the airline's A350 will be between Singapore and Amsterdam. The finalized date has not yet been set, but it is slated for some time in April.
Dusseldorf will follow Amsterdam with three weekly flights beginning July 21. Singapore Airlines expects to have ten of the aircraft in its fleet by the end of 2016. The aircraft will all be in a long-haul configuration, which seats 42 passengers in business class, 24 in premium economy, and 187 in economy class.
Beginning in 2017, Singapore will begin taking delivery of aircraft in a medium-haul configuration, which seats less customers in premium seating. These aircraft will eventually replace the airline's Airbus A330 aircraft currently operating flights eight hours or more between Singapore and Australia.
The airline will also be taking delivery of the Airbus A350-900ULR (Ultra Long Range) aircraft in 2018, which will operate flights from Singapore to Los Angeles and New York. These aircraft will be configured in a mainly premium cabin configuration, which will seat around 170 passengers. From 2004 through 2013, Singapore operated an Airbus A340-500 from Singapore directly to New York, an astonishing 18-hour flight. Unfortunately, due to the high-cost of fuel to operate an aircraft with four engines, the route was suspended. Passengers in the United States who frequent Singapore for business are already looking forward to having the service resumed with the newer, more efficient aircraft.
The A350 will have the airline's business class which is found on the newest of its Boeing 777-300ER aircraft. Economy class on the aircraft will be in a 3-3-3 layout, maximizing passenger comfort. Singapore Airlines will be only the fifth airline to fly the A350. Current A350 operators include Qatar Airways, Vietnam Airlines, Finnair, and TAM Airlines. Cathay Pacific is expected to take delivery of its first A350 in late April.
Tyler has been an aviation enthusiast for as long as he can remember and is currently pursuing a Bachelor's degree in Aviation Administration with a minor in Social Media Marketing from Lewis University in Romeoville, IL. His preferred airline is United and his favorite aircraft is the Boeing 777 and 757. Tyler has his fourth-degree black belt in Taekwondo and is unlikely to be seen without Starbucks in his hand. He is also an avid plane spotter. Tyler always has a smile on his face and his eyes pointed skyward.
Latest posts by Tyler Tashji (see all)