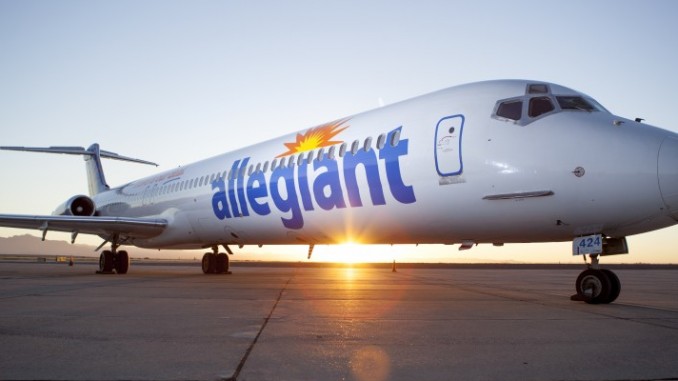 Allegiant Air will do quite a lot of flying on new routes this summer as the carrier has announced a slew of new routes including three new destinations for the low-cost carrier. The airline will start service for Santa Rosa (CA), Albuquerque (NM), and Evansville (IN). The cities will be Allegiant's 112th, 113th, and 114th city served, respectively. The arrival of Allegiant into Santa Rosa now gives the Sonoma County Airport a second airline next to the regional service it receives from Alaska Airlines.
A majority of the 22 new routes will be seasonal weekly flights on their fleet of McDonnell-Douglas MD-80s and Airbus A319/A320 aircraft. The following routes will be seasonal starting in the summer: Orlando (Sanford) to El Paso and Wichita, Destin (FL) to Ft. Lauderdale, Knoxville, Memphis, and Oklahoma City, Myrtle Beach to Harrisburg (PA), New York (Stewart), and Toledo, Los Angeles to Memphis, Jacksonville (FL) to Asheville, St. Louis (Mid America Airport), and Columbus, and New Orleans to Tulsa. The seasonal routes highlight the carrier's hubs in the southeast and the southwest as a way to continue to offer low-cost service to leisure destinations. Most of the destinations will see expanded service as Allegiant already serves most of their cities with other routes to alternate destinations.
The year round routes are a tad more experimental with the new flights being Santa Rosa (CA) to Las Vegas and Phoenix, Albuquerque to Las Vegas and Austin, Orlando (Sanford) to Evansville and Akron, Los Angeles to Reno, and Jacksonville to Indianapolis. Orlando to Akron was a route recently dropped by Southwest after the carrier announced route changes at their smaller destinations. Southwest reversed their decision and will only suspend service till June 11, leaving two carriers serving Akron-Orlando but at different Orlando airports. All routes will be twice weekly and will start between May 25 and June 16.
Allegiant also used the new service to announce a partnership with the National Association of Stock Car Auto Racing (NASCAR) and become the official airline for the sport. Allegiant has been highly active in the Charlotte-based racing organization as Allegiant CEO Maurice Gallagher's son Spencer is a driver in NASCAR's third tier racing league. This is the second partnership this month between NASCAR and Allegiant as the airline is also sponsoring NASCAR's "west coast swing" for three races on consecutive weekends in Las Vegas, Phoenix, and Los Angeles, all of which are Allegiant hubs.
Allegiant is starting off the new summer routes by offering under $50 airfare on the new flights which can be accessed on allegiantair.com.
Although Ian McMurtry was never originally an avgeek, he did enjoy watching US Airways aircraft across western Pennsylvania in the early 2000s. He lived along the Pennsylvania Railroad and took a liking to trains but a change of scenery in the mid-2000s saw him shift more of an interest into aviation. He would eventually express this passion by taking flying lessons in mid-Missouri and joining AirlineGeeks in 2013. Now living in Wichita, Kansas, Ian is in college majoring in aerospace engineering and minoring in business administration at Wichita State University.
Latest posts by Ian McMurtry (see all)