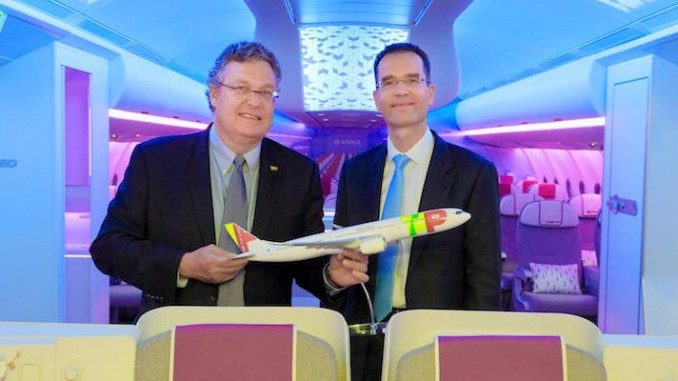 By signing an agreement with Airbus to be the first operator of the new A330neo, TAP Portugal has also become the launch carrier to fly the Airspace cabin brand by Airbus. In 2015, the airline placed a large fleet renewal contract with Airbus which included an order for 14 A330-900neo's. Passengers will soon be able to experience the Airspace cabin interiors for the first time when these aircraft enter service around the end of 2017.
Trey Urbahn, Chief Commercial Officer at TAP Portugal said, "We are extremely proud to be the first airline to fly the Airspace by Airbus cabin in the new A330neo. Our passengers and flight-crews eagerly look forward to experiencing this innovative new cabin design. Furthermore, the Airspace cabin represents an exciting and flexible canvas onto which we can project the TAP brand."
François Caudron, Senior Vice President of Marketing at Airbus said, "We are delighted to confirm that TAP will become the first airline to introduce the Airspace by Airbus cabin in the A330neo. Developed with passengers at heart and airlines in mind, Airspace encompasses four pillars: Comfort, Ambience, Services and Design and will ensure that Airbus cabins continue to be the benchmark in passenger experience and airline value."
The Airspace cabin interior, launched by Airbus earlier this year, connects the wellbeing for passengers with the operational performance for its airline customers. Representing the best of Airbus' cabin innovation and design, Airspace will offer a sophisticated, flexible canvas as a back-drop to enhance the airlines' own brands.
Dr. Kiran Rao, Airbus' Executive Vice President of Strategy and Marketing commented: "Airbus' history of success is down to innovation – which has always included the cabin as a key driver. With the great passenger feedback on the A350 XWB, and our application of A350 cabin technology and features to the A330neo, we are proud to embrace our cabin design principles through our new brand – Airspace by Airbus."
Highlights of TAP's Airspace cabin will include a new welcome area, the latest mood LED-based lighting system with 16.7 million possible colour variations, larger overhead bins, new contemporary lavatories, and the latest-generation in-flight entertainment (IFE) and connectivity. The Airspace cabin ambience ensures passengers' wellbeing, while the signature details and iconic elements will be recognizable throughout the cabin.
AirlineGeeks.com began in February, 2013 as a one-man (er… teenager, rather) show. Since then, we've grown to have 20 active team members, and yes, we're still growing. Some of us are looking to work in the aviation industry as professionals when we grow older. Some of us are still trying to decide what we want to do. That's okay though, because we're all here for the same reason: we love the airlines. We're the youngest team of airline industry journalists out there.
Latest posts by AirlineGeeks.com Staff (see all)