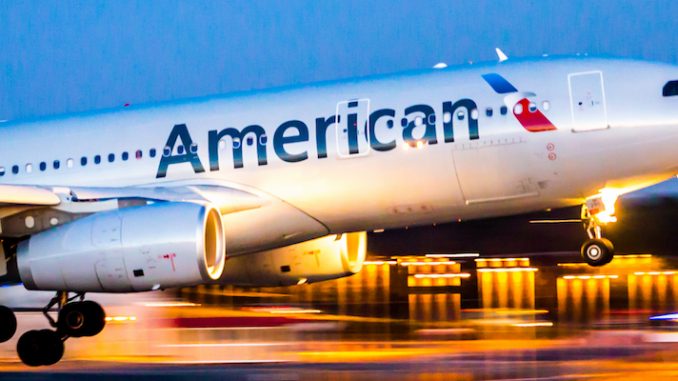 Today, American Airlines celebrated its 90th birthday. The airline marked the occasion with special events across its network and on social media, including a special celebration for passengers on American Airlines flight 90.
We're celebrating by taking a look back at the rich legacy of the largest airline in the world.
The Early Days
According to American's website, the airline started on April 15, 1926, when famous aviator Charles Lindbergh launched an airmail service between St. Louis and Chicago. From there, the small carrier grew and consolidated with a number of other carriers to form American Airways, Inc., which was officially renamed American Airlines in 1934.
1934 also saw the appointment of Cyrus Rowlett Smith (C.R. Smith, for whom American's museum in Dallas is named) as president of the fledging company. Smith was instrumental in the growth and development not only of the airline but of the U.S. aviation industry as a whole. It was Smith that persuaded Donald Douglas, head of the Douglas Aircraft Company, to produce the now-iconic DC-3 after committing to purchasing 20 aircraft before development formally began. The DC-3 has become perhaps one of the most famous aircraft of all time, shaping the development of domestic air carrier networks and making American the largest airline in the United States by revenue passenger miles by 1940.
The 1930s also saw the introduction of the first airline club, American's Admirals Club (initially known as the "Flagship Club") at LaGuardia Airport in New York.
World War II and the 50s
American experienced another period of growth during World War II, as the demands of war necessitated a government redistribution of global route authority. American, together with its future partners TWA and American Overseas Airlines, were granted numerous routes between the United States and Africa, India, Europe, and Asia by the Air Transport Command. As part of the war effort, half of American's planes and crews were dedicated to the Air Transport Command, who used them to provide supplies and military transport around the globe.
American was the first U.S. airline to introduce scheduled freight service with DC-3 freighters in 1944. American Airlines continued to operate an all-freight fleet which eventually grew to include DC-7s, 707s, and 747s among others until it was reintegrated into American Airlines in 1984.
American's iconic coast-to-coast service traces its roots back to this period when the airline introduced transcontinental "Mercury" service on the DC-7 between Los Angeles and New York.  At the same time, future partner TWA became the first with coast-to-coast service using the Lockheed L-1049 Super Constellation. American Airlines became the first to introduce non-stop jet transcontinental service with the 707 in 1959.
Deregulation and Expansion
The end of 1959 saw the introduction of SABRE, one of the largest electronic databases for ticket reservations, through a partnership with IBM. SABRE continued to provide travel reservation database services for American's reservations systems and was owned by AMR Corporation until it was spun off in 2000.
American's iconic "silverbird" livery and eagle logo, designed by Massimo Vignelli and Henry Dreyfuss, was introduced in 1968. The livery was in use for 45 years until American's new look in 2013, making it one of the longest lasting airline logos in use.
American's fleet slowly grew with the addition of the 727, 747, and DC-10. The 1970 acquisition of Trans Caribbean Airways in 1970 gave American access to key Caribbean routes. Deregulation in 1978 sparked another period of rapid growth for American throughout the United States and the Caribbean.
In 1979, American moved its headquarters from New York City to Dallas/Ft. Worth, which remains the airline's largest hub to this day.
That same year, Allegheny became USAir and launched a similar expansion in response to deregulation.
Crandall's American
In 1980, Robert Crandall was elected president and chief executive officer. Crandall's tenure marked a significant period in American's history, where the airline pioneered a number of firsts, namely the world's first frequent flyer program, AAdvantage. Crandall also oversaw the development of a full hub-and-spoke network and the introduction of yield management, revolutionizing airline ticket pricing.
Counted among Crandall's team was his "Brat Pack," a number of innovative airline employees that would go on themselves to lead airlines like Virgin America, Spirit, US Airways, and even American (Both former CEO Tom Horton and current CEO Doug Parker were employed together under Crandall).
Toward the 21st Century
In 1990, American acquired a number of Caribbean routes from Eastern Airlines, leading to the establishment of a large hub in Miami which continues to serve as the airline's largest hub for Latin American connections today.
American continued its growth with its 1998 integration with RenoAir, giving it access to a number of Western routes. A decade earlier, USAir had taken a number of steps forward with its acquisitions of Pacific Southwest Airlines (PSA) and Piedmont Airlines, which represented the largest airline merger at that time.
In 1999, American announced the formation of the oneworld Alliance together with British Airways, Qantas, Canadian Airlines, and Cathay Pacific. Today, the alliance has 15 full members, facilitating more reciprocal frequent flyer and transfer benefits across the alliance's combined network.
9/11 and the 2000s
In April 2001, American acquired the assets of Trans World Airlines, including its aircraft, employees, and a number of new routes. Shortly thereafter, the September 11 attacks shocked American and the airline industry to the core.
Beyond the massive decline in traffic and mounting financial difficulties across the board, American was forced to furlough a large number of its employees, which disproportionately affected former TWA employees. This, combined with contentious wage cut negotiations, damaged labor relations at the airline, and resulted in the resignation of CEO Donald Carty.
The airline responded to headwinds with renewed expansion into key markets, including China and India. The airline was able to make a profit in 2005 and incredibly avoided bankruptcy at a time when nearly all other major U.S. airlines were reorganizing.
The 2008 financial crisis put renewed stress on the airline, forcing further employee furloughs and the closure of a Kansas City maintenance facility.
Bankruptcy and Merger
In July 2011, American announced one of the largest aircraft orders in history with 460 orders split between Airbus and Boeing.
In November of that same year, American declared bankruptcy and began reorganization. Under CEO Tom Horton, the airline announced intentions to emerge as an independent carrier, although a number of other carriers expressed interest in acquisitions or mergers.
Following support of a merger by labor unions, American and US Airways announced their intention to merge on February 14, 2013. Following legal challenges by a number of state attorneys, the merger closed on December 13, 2013, creating the world's largest airline by scheduled passenger miles.
American introduced a new livery and logo in January 2013, launched on American's 737-800 and new 777-300ER aircraft. Under CEO Doug Parker, American has retained this new corporate identity and is nearing its full rollout across both American's and US Airways' fleet.
From small airmail carrier to the world's largest airline, the story of American Airlines has been one of innovation, reinvention, and perseverance in the face of challenges. American Airlines has become a cultural icon recognized worldwide and continues to redefine itself with new aircraft, amenities, routes, and products. While it's impossible to predict what the next 90 years holds for air transport, you can be sure that wherever the next horizon is, the name "American" won't be far behind.
Happy birthday, American Airlines.
AirlineGeeks.com began in February, 2013 as a one-man (er… teenager, rather) show. Since then, we've grown to have 20 active team members, and yes, we're still growing. Some of us are looking to work in the aviation industry as professionals when we grow older. Some of us are still trying to decide what we want to do. That's okay though, because we're all here for the same reason: we love the airlines. We're the youngest team of airline industry journalists out there.
Latest posts by AirlineGeeks.com Staff (see all)