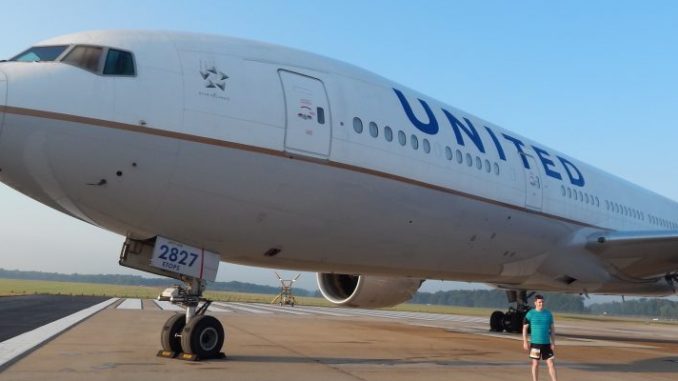 In May 1986, United began hub operations at Washington Dulles (IAD) with 58 departures serving 24 destinations. United has continually served the Nation's Capital for 50 years, 30 of which have been from their hub at Dulles.
To celebrate their 30 year anniversary, the airline brought in the "777 Grill" for employees and had a ceremony with a 777-200 as the backdrop.
Had a blast serving our IAD @weareunited overnight team BBQ from our 777 grill. Happy 30th! pic.twitter.com/nC5CwuNJO5

— Charles Duncan (@Charles_UAL) May 9, 2016
"Over the last 30 years, United has employed nearly 17,000 dedicated employees at IAD who have helped connect more than 500 million people through Washington Dulles to destinations around the globe," said Jon Roitman, Senior Vice President of Airport Operations for United at the ceremony. "We are committed to providing our customers at IAD and throughout the world with an elevated travel experience, and we look forward to delivering unmatched service from the national capital region for decades to come."
Today, United operates out of two concourses at Dulles: C and D. The airline currently operates, along with United Express, 220 daily departures from Dulles. United flies to 30 international destinations from IAD.
United continues to add service from Dulles. On May 25, United will fly to Barcelona and Lisbon using the 757-200 and 767-400ER aircraft. Additionally, the airline has applied for service to Havana, Cuba and would operate nonstop service from Washington Dulles.
PHOTO GALLERY: United Aircraft at Washington Dulles
(Click to enlarge)
Ryan founded AirlineGeeks.com back in February 2013 (actually, it was called Aviation Official, but we've changed a bit since then). From being on the yoke of a Piper Navajo, to visiting about Delta's operations center in Atlanta, Ryan has done it all. in 2016, along with American Airlines, Ryan masterminded AAviationDay at more than 10 locations around the world. The smell of jet fumes in the morning along with the countless number of passionate airline employees keep him enthralled in the industry, always seeking more. You can find him helping out travelers at Reagan National Airport near Washington, D.C. when he's not doing something for AirlineGeeks.
Latest posts by Ryan Ewing (see all)