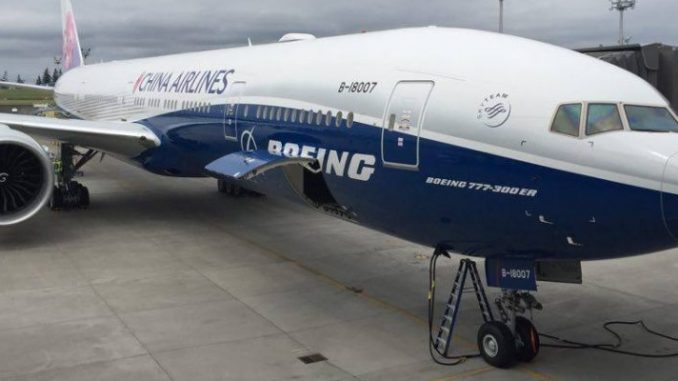 As of May 16, 2016, China Airlines took delivery of the first co-branded 777-300ER at a special ceremony in Everett, WA. The milestone delivery is China Airlines' tenth 777-300ER.
"We are delighted to celebrate 100 years of Boeing by working together with Boeing to accomplish the first co-branded livery 777-300ER," said China Airlines Vice President of Corporate Planning Steve Chang. "This is our 10th 777 from Boeing, and since our first 777 entered into service in 2014, we have been exceedingly satisfied with its outstanding performance which was further affirmed by our happy passengers."
Boeing shares in the airline's excitement. "The Boeing Company is truly honored to celebrate yet another milestone delivery with China Airlines," said Boeing President and CEO Ray Conner. "It is fitting that the first co-branded 777 is delivered to China Airlines, especially as Boeing celebrates its c centennial this year. The airplane is the perfect symbol of our enduring 50+ years of partnership."
The airline has a history of milestone liveries. In 2004, China Airlines was the first to operate a 747-400 in a co-branded livery. Nicknamed the "Blue Whale," the aircraft was the first co-branded twin aisle airplane in the world.
The carrier's 777-300ERs are configured for 358 passengers and arranged into three classes. A signature feature of their 777s is the "Family Couch" seating, which combines three economy seats into one "couch".
The 777-300ER is the most successful long haul twin aisle aircraft. Equipped with GE90-115B engines, it has a range of 7825 nautical miles, which China Airlines uses to enhance their long haul European and North American route network.
China Airlines is the largest Taiwanese carrier, maintaining a fleet of 90 aircraft and serving 118 destinations.
Photo Gallery:
*All photos provided by Chuyi Chuang 
Ashley is currently a senior in high school and plans on pursuing a career in aviation or journalism. Her favorite airplanes include the Boeing 777, 737MAX, and Airbus A350. She enjoys taking flights on various airlines to different airports and planespotting at her local airports.
Latest posts by Ashley Magoon (see all)