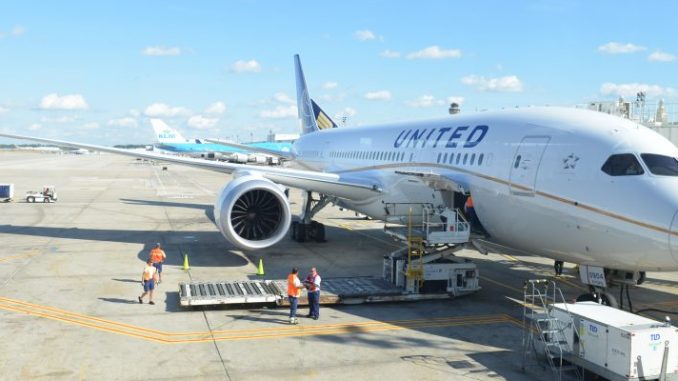 United has kicked off the summer travel season by updating and expanding its existing route network.
Today, United launched three new seasonal flights to Europe from its hubs in New York/Newark and Washington-Dulles. In addition, the airline also announced it would be ending its Houston to Lagos route and upgrading its new San Francisco to Tel Aviv route to daily service.
New Seasonal Daily Europe Flights
Today, United launched seasonal service to Barcelona and Lisbon from Washington-Dulles. On the Barcelona route, United will operate its Boeing 767-400 aircraft and will use its Boeing 757-200 aircraft on flights to Lisbon. 2016 will mark United's 19th year of service to Lisbon. Both of these routes will operate from May 25th through September 6th.
From its Newark hub, United launched daily service to Athens using its Boeing 767-300 aircraft. This route will be operated from May 25th through October 5th.
The Schedule 
| | | |
| --- | --- | --- |
| Flight # | Depart | Arrive |
| UA140 | Dulles 5:40pm | Barcelona 7:45 (+1) |
| UA141 | Barcelona 11:15am | Dulles 2:30pm |
| UA168 | Dulles 10:15pm | Lisbon 10:35am (+1) |
| UA167 | Lisbon 12:15pm | Dulles 3:35pm |
| UA124 | Newark 5:50pm | Athens 10:30am (+1) |
| UA125 | Athens 12:15pm | Newark 4:15pm |
"These routes are just the latest of the important and exciting routes we are adding around the world. The addition of these new routes to our already impressive global route network gives our customers even more opportunities to plan their visits to some of Europe's most beautiful coastal cities," said Marchel Fucjs, Vice President of Atlantic and Pacific Sales at United.
Ending Service to Africa
In a memo to employees, United announced today that it will discontinue its Houston to Lagos route, effectively eliminating the airline's presence in Africa altogether.
The last flight to Lagos will depart Houston on June 29th and the last flight out of Lagos will depart June 30th.
United is discontinuing the route due to its poor financial performance. The airline said, "Because of its importance to key Houston-based customers, we continued to invest in it; however, the recent downturn in the energy sector has caused these customers to spend less on travel. Additionally, various U.S. companies, including United, have not been able to collect revenue from tickets and cargo sold locally in Nigerian currency."
United also said that approximately half of the revenue generated by the route comes from Nigeria point-of-sale, which ultimately has made the route unprofitable.
The airline currently operates its Boeing 787 Dreamliner aircraft on this route. United will be redeploying the aircraft on its recently-launched and extremely popular San Francisco to Tel Aviv service. This route is currently operated on a three-times weekly basis, but will be upgraded to daily service in October.
Expanding Asia/Pacific Presence
On May 8th, United became the first airline to launch transpacific service between San Francisco and Xi'an, China.
Beginning June 1, United will launch the world's longest 787 flight between San Francisco and Singapore. United will be the only airline to serve Singapore with nonstop service from the United States.
Auckland, New Zealand will see United service again beginning July 1st. This route will be operated three-times weekly from San Francisco.
Lastly, on July 13, United will begin the first-ever nonstop service by a U.S. airline between Hangzhou, China and San Francisco.
Tyler has been an aviation enthusiast for as long as he can remember and is currently pursuing a Bachelor's degree in Aviation Administration with a minor in Social Media Marketing from Lewis University in Romeoville, IL. His preferred airline is United and his favorite aircraft is the Boeing 777 and 757. Tyler has his fourth-degree black belt in Taekwondo and is unlikely to be seen without Starbucks in his hand. He is also an avid plane spotter. Tyler always has a smile on his face and his eyes pointed skyward.
Latest posts by Tyler Tashji (see all)