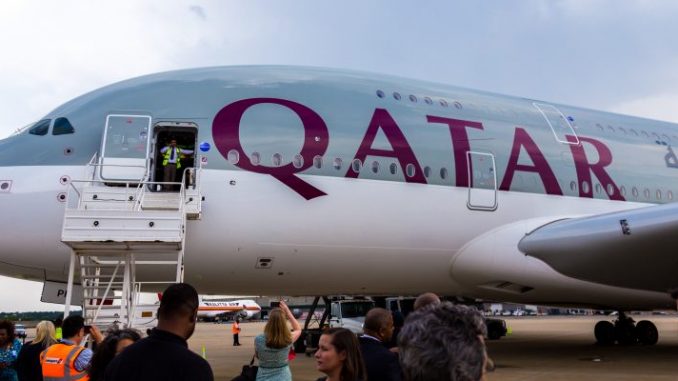 After much anticipation, Qatar Airways' Airbus A380 landed at Hartsfield-Jackson International Airport in Atlanta, the latest route in the airline's massive international expansion.
"The Qatar Airways A380 provides a memorable experience for our passengers, with a spacious double decker layout, refined finishings, customized interiors and convenient design," stated Qatar's CEO, Akbar Al Baker a few weeks before the launch. "We look forward to welcoming our passengers to and from Atlanta on our inaugural flight on June 1, but also on every flight thereafter. We look forward to serving the global travel needs of the people of Atlanta."
The airline becomes the first carrier from the Middle East to offer service to Atlanta, hoping to continue to accelerate its campaign and offer more service for passengers wanting to travel affordably across the globe. Qatar has gained traction in recent years in part due to the construction of the new Hamad International Airport in its hometown hub of Doha. Utilizing the vast majority of the airport's gates, Qatar has created an effective schedule, helping passengers easily transit from one side of the world to the next.
Currently only two gates at ATL can accommodate the massive double-decker aircraft, but unfortunately the hometown carrier, Delta Air Lines, had already planned on the gate's use for its own A320 months in advance. As such, Qatar and the airport got a little creative by utilizing a parking stand, busing passengers out to the gate in time to depart.
"Despite limited time to solve for the request, Delta offered solutions to allow Qatar to use the gates while ensuring our own schedule remained accommodated during a heavy traffic period at the international terminal," Delta said in a written statement.
Both Delta and Qatar have been feuding in recent years, as Delta claims that Qatar is heavily subsidized by its own government. The arguments have gone back and forth for some time, as both former CEO of Delta, Richard Anderson, and Qatar's current CEO, Akbar Al Baker, share no shortage in their thoughts on the competition. Only time will tell how the latest route to Delta's hometown affects the two carriers. Moving forward, the route will be served by Qatar's Boeing 777-200 aircraft, which while smaller, will offer ample service to Doha and beyond.
Photos from inside Qatar's A380 after it arrives in Atlanta: 
AirlineGeeks.com began in February, 2013 as a one-man (er… teenager, rather) show. Since then, we've grown to have 20 active team members, and yes, we're still growing. Some of us are looking to work in the aviation industry as professionals when we grow older. Some of us are still trying to decide what we want to do. That's okay though, because we're all here for the same reason: we love the airlines. We're the youngest team of airline industry journalists out there.
Latest posts by AirlineGeeks.com Staff (see all)