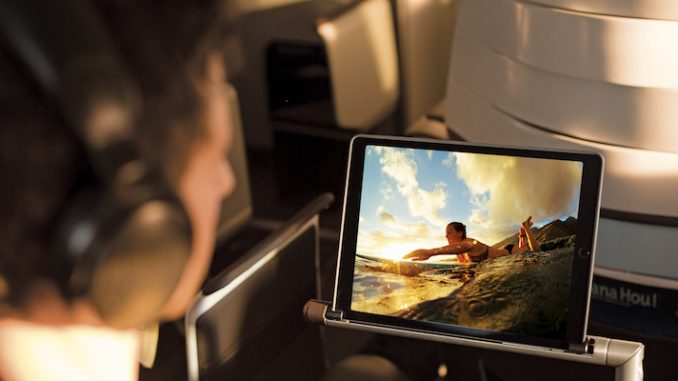 Hawaiian Airlines recently unveiled their newest Airbus A330-200, the first A330 in their fleet with their new upgraded premium cabin. In a press release from the airline, the new cabin is described as modern with luxurious island-inspired designs and special lighting that create constellations paying homage to the history of Polynesian navigation.  The new seats come as a slight change from the current angled-flat seats that are offered in the current premium cabin onboard the A330.
In a quote from Mark Dunkerley, Hawaiian's CEO and president, he stated, "Our custom-built fully lie-flat seats and our new Premium Cabin redefine the leisure travel experience to Hawaii. In details little and large we have crafted a new seat and a new cabin to look after our guests in unparalleled comfort accompanied by the authenticity and warmth of our in-flight Hawaiian hospitality."
The cabins feature 18 lie-flat seats, which drop into full beds with dimensions of 20.5 inches wide and 76 inches long. The seats are aligned in a 2-2-2 configuration, which the airline says is tailored to leisure guests, however they also go onto mention that the seats offer superior functionality to business travelers.  Seats also include multiple power point for easy charging of devices for the duration of their travel. The seats also feature advanced in-flight entertainment systems, which for the ease of travelers, rest on an adjustable telescoping arm for optimal viewing.
Along with the change to the Business/First Class cabin, there are slight changes in the Extra Comfort seats. The Extra Comfort seats feature 36 inches of seat pitch, priority boarding, and personal power outlets. In the new configuration there will be an additional 28 Extra Comfort seats causing a slight drop in overall capacity on the flights. In current configuration, the aircraft carry 294 passengers with 18 Business Class seats, 40 in Extra Comfort, 236 in Economy. In the new configuration the capacity is dropped to 278 seats with 18 in business, 68 in Extra Comfort, and 192 in the Main Cabin.
The newly outfitted A330 will enter the carrier's network in June serving West Coast U.S. destinations as a special treat for guests with dedicated routes being announced in the fall, along with other new announcements. Hawaiian will continue to install the new Premium Cabins starting this fall and they will continue installing on the A330 fleet until early 2018.
Hawaiian, the largest carrier in Hawaii, operates the A330 on a majority of its North American and international routes. All classes of travel include personal on-demand entertainment system, comfortable legroom, and a roomy interior. The airline also prides themselves on being the only airline in the U.S. that serves full meals in all classes of travel on their long haul domestic flights
Jace has been working at AirlineGeeks for nearly three years. Born in Seattle, Boeing and aviation quickly took over his life and he never stopped looking up. Jace enjoys plane spotting and taking trips just so he can fly. He is currently studying at Embry-Riddle Aeronautical University while earning his Bachelors of Science in Air Traffic Management.
Latest posts by Jace Moseley (see all)