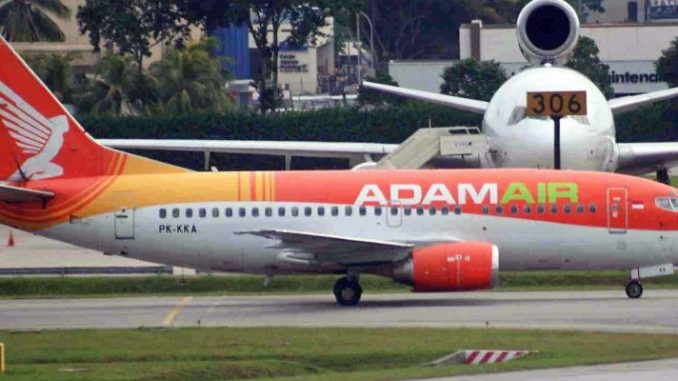 With an expanding Indonesian economy in the early 2000s, the Indonesian aviation community saw quite a few new airlines arise, on of which was Adam Air. Adam Air was formed as a privately owned commercial airline by Agung Laksono in 2003 as a way to provide a cheaper alternative to other airlines like Gaurda Indonesia and Lion Air. The airline started with flights out of Jakarta utilizing two leased Boeing 737 classics. The airline saw early success, adding multiple new routes and more Boeing 737 classics to meet demand.
Although marketed as a low cost carrier (LCC), Adam Air was very much on board with being called a "middle of the road" carrier, combining both tradition and low cost options. Flights on Adam Air were cheap for Indonesian standards and the bright orange and green livery allowed the airline to stand out in a sea of white fuselages as most LCCs tend to have. The airline ran an all economy 3-3 seating style for their 737s but decorated the interior with bright colors to match the corporate colors and the flight crew's orange uniforms. Despite the LCC behaviors, the airline also followed traditional airline standards, offering onboard meals for passengers no matter the flight duration.
While Adam Air was making profits and adding new routes, they were also looking for new investors and ways to grow their network. The airline made various attempts to get outside airlines to invest, including Qantas Airways and numerous corporations in the Singapore area, off of which lead to talks being suspended or failing. Regardless of lack of overseas interest, the Indonesian markets loved Adam Air, investing millions of dollars in the carrier and claiming that the airlines "bright colors and bold marketing strategy" was the reason the airline had become a rapid success. The success brought about two new focus cities, with East Java and Medan seeing intensified interest from the colorful LCC.
While Adam Air was seeing some success, the airline was also cutting corners. Adam Air had been skipping or rushing various maintenance checks in order to keep airplanes in the air and starting in 2006, the table turned on the carrier. Adam Air flight 782 lost electronics to the navigational and communicational systems, leading the flight to land almost 300 miles from its actual destination. The problems didn't end there, Adam Air would lost back to back Boeing 737s in 2007, with flight 574 falling into the Makassar Strait and flight 172 having the fuselage fail on landing. These wrecks caused the Indonesian government to take a second look at Adam Air, especially since all the wrecks were traced back to either crew error or maintenance failure. Adam Air didn't help their case though, fighting any case brought before them and refusing to pay for any recovery costs. After the crash of AdamAir 172, six Boeing 737s were grounded in order to receive proper maintenance checks. Adam Air issued a statement after that, critizing the Indonesian government for creating the "harsh punishment" of grounding over 50% of the carrier's fleet and failing to mention storms in the flight 172 crash report, which the airline said contributed to the wreck.
The airline saw more problems outside of crash reports though, with pilots and employees quitting over mechanical or corruption reasons. The airline tried to maintain its reputation, but reports about the airline manipulating passenger travel itinerary to add unnecessary fees and spreading marketing lies like flying the "brand new Boeing 737-400" (an aircraft that was already out of production in favor of the Boeing 737-700/800/900 series) only compounded the problem.
However, the airline reached a breaking point on March 10, 2008 when Adam Air flight 292 overran runway 22 at Batam after a flight from Jakarta, damaging one wing. Flight investors discovered that Adam Air flight crew didn't know how to work the emergency exits, so passengers were forced to jump down from the aircraft. As a result of these findings, airline had its operating certificates revoked and the airline itself had hit a point of bankruptcy. Adam Air never flew again, however, Indonesia's market didn't see a major impact with the loss of Adam Air since other LCCs such as Lion Air and AirAsia were able to fill the void.
Although Ian McMurtry was never originally an avgeek, he did enjoy watching US Airways aircraft across western Pennsylvania in the early 2000s. He lived along the Pennsylvania Railroad and took a liking to trains but a change of scenery in the mid-2000s saw him shift more of an interest into aviation. He would eventually express this passion by taking flying lessons in mid-Missouri and joining AirlineGeeks in 2013. Now living in Wichita, Kansas, Ian is in college majoring in aerospace engineering and minoring in business administration at Wichita State University.
Latest posts by Ian McMurtry (see all)