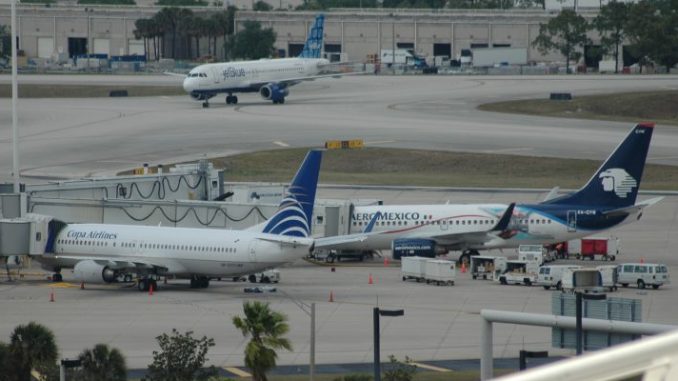 Whenever the Orlando City Soccer Club play a match outside of Orlando, the chant used by opposing fans is usually "your city's a theme park." However, it is this characteristic of the Orlando area that has created a sort of rags to riches tale for the Orlando International Airport (MCO). From a small local airport to international gateway, the evolution of Orlando International Airport is extremely unique.
The Past
As the jet age started, Orlando Municipal Airport operated as the main airport for Orlando at what is present day Orlando Executive Airport while what would become Orlando International Airport was McCoy Air Force Base. The jet age was a problem for Orlando with the Boeing 707 being too large for the small 6000 ft runway at ORL, and the passenger terminal already seeing the strains of some success and increased passenger loads. By the 1960s, the city had reached an agreement with McCoy Air Force Base to utilize part of the airfield as a commercial airport while the military would operate the rest. The city would pay to rebuild any Air Force building that would be demolished when the airport would open, allowing the military to still fully utilize the airport. The airport opened to commercial traffic in 1964, with a former military hangar becoming a makeshift home for the three airlines that operated to Orlando; Delta, Eastern and National Airlines. The commercial side of the airfield also became the Orlando JetPort at McCoy, while Orlando Municipal Airport became Orlando Executive Airport.
The airport stabilized during the 1960s, however, the arrival of two theme parks in the early 1970s (The Walt Disney World Resort and SeaWorld) immediately caused a spike in traffic. Eastern Airlines became the official airline of the Walt Disney World Resort and for a short time considered leaving MCO for a proposed airport on Disney property. Regional carriers like Shawnee Airlines rose quickly by offering regional flights on DeHavilland DHC-6 Twin Otters which flew to an on park property airport near the Magic Kingdom. The airport saw a significant rise in aircraft size, with the narrowbody aircraft being swapped for widebodies to meet surging demand.
To meet with the rise in demand, plans were started to create a new terminal and move away from the airport hangar and terminal in place at the time. The airport has planned to have each airline operate in separate terminals, either by an airside/landside terminal or a curvilinear design similar to the one being constructed at Kansas City International Airport at the time. While plans were being made for a new terminal, Orlando also started adding a single story concourse to the existing terminal to allow for some expansion while plans were being made for a larger terminal.
Two events in the 1970s changed the tone of the airport conversation; the 1974 closing of McCoy Air Force Base and the Airline Deregulation Act of 1978. With airlines now able to fly routes without government approval, the number of airlines grew rapidly, with 11 airlines starting Orlando routes before the end of the year. This expansion led the city to move away from the curvilinear terminal idea, believing that the landside/airside option would allow for more expansion room for the future. Construction started by late 1978 with airsides 1 and 3 being the first erected, the contruction on Airside 1 lasted three years and the terminal opened in 1981 while Airside 3 joined not far behind in 1984. The airport started work on Airside 2 and 4 not long after that, with Airside Four opening in 1990 and Airside 2 finishing the four concourse set in 2000. At completion, the airport consisted of four airsides with a total of 120 gates and one main landside terminal with a hotel and small shopping mall along with two large parking garages. By 2000 the airport has experienced a massive expansion, with 30 million passengers flying through MCO compared to five million in 1978. To meet this demand, two runways (35L-17R)(35R-17L) were added to the eastern end of the airport.
While the airport changed shape, as did the airline landscape. Eastern Airlines remained the official airline of Walt Disney World through the 70s and 80s until the carrier went bankrupt in 1991, in which its Orlando hub was gifted to Delta. The international attention of Walt Disney World attracted international traffic, leading to Orlando Airport needing to adapt to handle international traffic as European carriers such as British Airways, Virgin Atlantic, Lufthansa, and Icelandair arrived at MCO. Canadian airlines also took advantage of the theme park capital of the US, with Air Canada and later on WestJet and Sunwing providing the Orlando market with 17 Canadian destinations either seasonally or year round.
The 1990s and early 2000s saw Orlando take another evolution, with legacy carriers domination the airport, the arrival of Southwest Airlines in 1998 and rapid expansion in the years following it provided the city with a major low cost carrier to help keep fares in check. JetBlue was the next low cost carrier to find success at Orlando, with the Airbus and Embraer fleet utilizing their low fare strategy to please travellers from the northeast. Delta's low cost carrier Song operated a hub in Orlando from 2003 to 2006 in hopes of replicating JetBlue's MCO success but the bankruptcy and restructuring of Delta in 2006 ended those plans, but the large presence of Delta in Orlando remained. Song wasn't the lone failure for a low cost carrier at MCO though, in 2010 Allegiant Air moved their Orlando-Sanford hub to Orlando International in hopes it would attract more travellers, but high landing fees and low demand forced the carrier back to Sanford soon after their original move. Frontier and Spirit Airlines have found success in Orlando over the last few years, mostly through overlapping flights with legacy carriers and offering rock bottom fares to attract the budgeting traveller. Low cost carriers from other countries have found success at MCO too, with airlines like Virgin Atlantic, Thomas Cook, Sunwing, and Volaris offering multiple flights a day to the Sunshine state.
With theme parks like Disney World, Universal Studios, and Seaworld coupled with beach and cruise going travellers, Orlando International Airport is one of the most competitive markets in the United States. Over 38 million people travelled through central Florida airport to one of Orlando's 122 destinations. Despite the large amount of destinations, routes are often overlapped by more than one carrier. On the domestic side of travel, 72 destinations are offered on 12 carriers. Of the 72 destinations, 62.5% of the cities are served by two carriers and of those 38.8% are served by 3 or more airlines. International flying isn't as competitive, however it provides passengers with various options, with 50 destinations being offered on 21 carriers. Of the 50 international options, 38% are served by two or more carriers, including popular flights such as Monreal, Toronto and London-Gatwick which see 4 different airlines fly their routes.
The Future
The expansion to 120 gates has stood strong over the last decade, however, increasing traffic and more attention from South American travellers has forced the city of Orlando to consider further expansion. In May 2015, the Greater Orlando Aviation Authority decided to start construction on a new south terminal. The new terminal, expected to cost roughly $1.8 billion, will consist of 16-24 gates and will be made to allow for easy expansion if the airport needs extra room for future airlines. The goal of the new terminal is to move international arrival and departures to their own home, instead of utilizing gates in Airsides 1, 3,and 4. The idea of moving international arrivals is that the movement streamlines security issues that have plagued Orlando for the past few years, as well as influence domestic carriers like JetBlue and Frontier to further expand their presence in central Florida. A similar people moving system will be in place at the international terminal, allowing passengers to transfer terminals without leaving airport property or needing a bus or taxi. The terminal project is slated for a 2019 completion.
While the future of Orlando and Orlando International Airport is bright, its evolution over the last 50 years is already incredible. From a hangar converted to a terminal, to eventually a 20 gate international terminal, the theme park capital has an airport capable to meet the city's demands. So while Orlando City fans might have to sit through listening to the "your city's a theme park" chant at soccer games, Orlando International Airport has given Orlando City fans the ability to fly anywhere to avoid hearing it.

Ian has been an avgeek since 2004 when he started spotting US Airways Express planes at Johnstown Airport in Johnstown, Pennsylvania. He now lives in Wichita and enjoys spotting planes in Kansas City and Wichita as well as those flying at high altitudes over his home. He is a pilot with more than 40 hours of experience behind a Cessna 172, Diamond DA-20, and Piper PA-28. He flies Southwest Airlines on most of his domestic flights and Icelandair when flying to Europe. Ian's route map spans from Iceland and Alaska in the north to St. Maarten in the south. He is a student at Wichita State University, where he will study aerospace and mechanical engineering.

Latest posts by Ian McMurtry (see all)