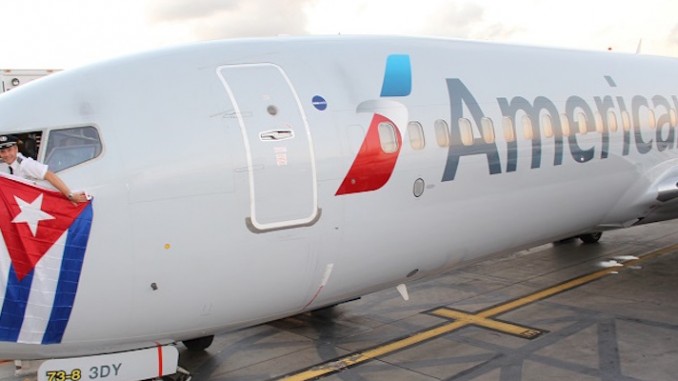 July 7, 2016 was a very important day for airlines based in the United States. With the recent opening of travel to Cuba from the U.S., airlines were quick to apply for routes to Havana. Routes that were tentativly approved were announced today with United Airlines, Delta Air Lines, and American Airlines headlining the airlines with new flights to Cuba. JetBlue, Alaska Airlines, Spirit, Frontier, and Southwest Airlines also had routes approved by the United States Department of Transportation (DOT).
American Airlines
American Airlines was awarded five daily flights to Jose Marti International Airport (HAV) in Havana. Four daily will operate from Miami International Airport (MIA) and one will fly from Charlotte Douglas International Airport (CLT).
American will start selling tickets on these flights starting next month after the DOT finalizes their decisions. If the flights are officially granted, the airline will look to start flights in November of 2016. The Miami flights will be operated by the Boeing 737-800 while the Charlotte flights will be on the Airbus A319. The addition of these five flights bring the total number of daily flights for American up to 13. Havana also brings the total number of cities served in Cuba by American to six.
"American has a rich history in the Cuban market and we are excited to continue to be the leader in providing air service between the United States and Cuba," said Andrew Nocella, American's Chief Marketing Officer, in a press release.  "We thank Secretary Foxx and the Department of Transportation for the opportunity to serve Havana and for their leadership in restoring scheduled service between the U.S. and Cuba after more than 50 years."
The inaugural flights to the five other Cuban destinations will take place throughout September of this year, with all flights originating out of Miami. Flights to Cienfuegos and Holguin will begin on September 7 with Camaguey and Santa Clara starting two days later. Varadero flights will commence on September 11.
Delta Air Lines
Delta Air Lines was awarded flight to Havana from New York-John F. Kennedy (JFK), Atlanta (ATL), and Miami (MIA). No information about frequency was announced. However, the airline did state that tickets for these flights would go on sale at some point this summer. The new routes will mark the return of Delta to Cuba after an almost 55 year absence.
"Today has been a long-awaited moment to celebrate Delta's historic return to Cuba, and we thank Secretary Foxx, his team and the other U.S. officials for granting us the authority to provide Havana service from Atlanta, Miami and New York," said Nicolas Ferri, Delta's Vice President – Latin America and the Caribbean. "We look forward to providing the market with excellent customer and operational performance that will reunite families and support a new generation of travelers seeking to engage and explore this truly unique destination.
United Airlines
United Airlines was granted tentative rights from two of their main hubs. The first being a once daily flight from Newark (EWR) and the second being a once weekly, Saturday only flight from Houston Intercontinental (IAH). Like Delta, United has not provided information about the aircraft that will be operating the routes. They do however, expect to start service at some point during this year.
Alaska Airlines
Alaska Airlines was granted a single daily flight from Los Angeles International Airport (LAX). They are the only airline that will be serving Havana from the West Coast of the United States. The daily flight will be operated by the Boeing 737-900ER which seats 181 passengers in a two class configuration. Alaska was the only airline that applied for service between Los Angeles and Havana.
"We applaud the DOT for making a fair and equitable decision given the high-level of interest and limited number of available departures," said Alaska Airlines CEO Brad Tilden. "We want to thank Los Angeles Mayor Eric Garcetti, Los Angeles World Airports Chief Executive Officer Deborah Flint, and other city, county and state leaders, as well as congressional supporters of our application. We look forward to offering this exciting destination to our customers."
JetBlue
JetBlue announced that it will operate non-stop service to Havana from Orlando (MCO), Fort Lauderdale (FLL), and New York-JFK. All flights will operate daily with the Fort Lauderdale flight operating up to twice daily. Havana will become the fourth destination in Cuba that JetBlue will serve. Flights to Cuba will be operated by the Airbus A320 and A321 aircraft.
The flights add to the current list of Santa Clara, Holguin, and Camaguey. All of the destinations will be served from the airlines main Caribbean hub in Fort Lauderdale. At this point, there is no indication of when flights will start or when tickets will officially go on sale.
Southwest
Along with JetBlue, Southwest was also granted service to Havana from Fort Lauderdale (FLL). The airline was also granted the authority for flights from Tampa Bay International Airport to Havana. The airline plans to operate Fort Lauderdale to Havana on a twice daily basis, while Tampa to Havana will be once daily. These flights will add to the previously rewarded flights for Southwest.
Southwest had already been given authority for flights to Santa Clara and Varadero, both originating out of Fort Lauderdale. Santa Clara will be operated once daily while Varadero will be operated twice daily after the flights begin. The flights are expected to start later this year. 
Jace has been working at AirlineGeeks for nearly three years. Born in Seattle, Boeing and aviation quickly took over his life and he never stopped looking up. Jace enjoys plane spotting and taking trips just so he can fly. He is currently studying at Embry-Riddle Aeronautical University while earning his Bachelors of Science in Air Traffic Management.
Latest posts by Jace Moseley (see all)