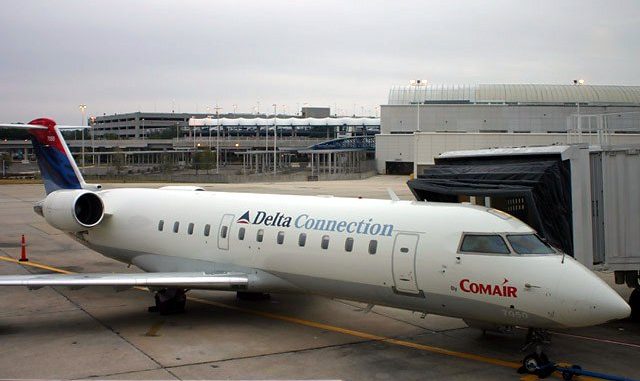 With the start of the Airline Deregulation Act in 1978, airports across the Midwest weren't expecting too much in terms of growth. However, the ability for new airlines to appear became a common idea. Comair was created in 1977 by a group of investors interested in making Cincinnati (CVG) a hub airport. Operations started in 1977 with a fleet of three Piper Navajo aircraft flying to Cleveland, Akron, and Evansville. The airline immediately hit turbulent times that ranged fro posting a major profit, one accident and a history of violating safety practices. This volatility resulted in the founders of the airline quickly announcing their need to step down, causing Comair to switch hands within a year of starting service.
Under new management, Comair cleaned up its record while continuing to hit its stride of profitability. The airline replaced the Piper fleet with Embraer EMB-110 Bandeirante aircraft to provide room for more passengers and growth. Comair's success didn't go unnoticed, and when Delta Air Lines decided to started a hub at Cincinnati it announced a deal to make Comair the official Delta Connection carrier for Delta at CVG. Under Delta operations, Comair continued to grow, expanding to include eastern seaboard cities as well as starting international service to Canada. The airline added the Saab 340 to its fleet, and placed an order to be the launch customer for the Bombardier CRJ-100 to allow for further growth that Delta expected. Delta responded in 1986 by investing in a 20% stake in the regional carrier.
The early 1990s saw Comair transform into an regional powerhouse. The completion of construction at Cincinnati's Concourse C allowed Comair to move all operations to the terminal in 1992. Furthermore, the arrival of the Bombardier CRJ-100 allowed the carrier the opportunity to expand and form small crew bases in in Orlando and Greensboro. The success of the Bombardier CRJ-100 allowed the airline to retire all other aircraft, leaving them as an all Bombardier fleet. The CRJ-100 also saw Comair add the "Delta Connection" titles to their fleet, moving the Comair logo from the fuselage to the tail and eventually the nose. Delta continued to watch Comair's growth with great interest, and in 1999 decided to take a 100% stake in the airline. By the end of the decade Comair was the largest regional carrier in the US with 100+ aircraft serving 6 million passengers across 83 destinations.
While the 1990s were kind to Comair, the 2000s were the start of the airline's collapse. Comair had started 2001 with the pilot's group agreeing to strike starting on March 26, 2001. The strike went on for nearly 90 days, and coupled with Delta cutting staff following the events of September 11, left Comair with a depleted staff that had transferred to other regional carriers, especially other Delta carriers like SkyWest Airlines and Atlantic Southeast Airlines. The airline cuts some flights, but also ordered the Bombardier CRJ-700 to allow for more space to grow in the future.
Comair's struggles were only getting more and more complicated as the airline was plagued with scheduling issues and computer system failures. Delta announced further cuts to the regional carrier when the parent company filed for bankruptcy in 2005, effectively closing the crew bases at Orlando and Greensboro and starting a new one at New York for both New York-JFK and New York-La Guardia airports.
Troubles mounted as the airline's pilot training was questioned following the crash of Comair Flight 5191. Comair's crash generated plenty of lawsuits after the pilots of flight 5191 took off on the wrong runway from Lexington, KY. The airline continued to struggle to turn a profit, and Delta was quickly realizing this. Cuts at Comair's hub in Cincinnati had caused Delta to move some Comair service to other cities such as Atlanta and Detroit. Delta also wanted to replace the older CRJ-100s, ordering the Bombardier CRJ-900 for the airline to operate in hopes the new aircraft would help. However, a rising fuel price forced the airline to retire an extra dozen aircraft instead to reduce costs.
By 2010 the carrier was in desperate need of cash, Comair announced in 2010 that it would slowly remove all Bombardier CRJ-100s over the next two years and become a fleet of only 44 Bombardier CRJ-700s and CRJ-900s. The reduction of aircraft also resulted in 500 pilots being furloughed. Despite the fleet cuts, Delta saw that Comair wasn't worth the cost and decided in 2012 to suspended all Comair flights. The airline's last flight was September 29, 2012 between Jacksonville, Florida and Minneapolis-St. Paul, Minnesota. The airline's aircraft, crew, and routes would be redistributed among the other Delta Connection carriers, with St. Louis-based GoJet Airlines earning the Bombardier CRJ-700s and Atlanta-based Atlantic Southeast Airlines flying the Bombardier CRJ-900s. A few remaining Comair Bomardier CRJ-100s were given to SkyWest Airlines to fly out of Delta's Salt Lake City and Los Angeles hubs. The loss of Comair didn't affect Delta's regional jet flying, allowing the airline to continue to operate smoothly. Delta still operates the old Comair hangar at Cincinnati, utilizing it for maintenance of their Delta Private Jets and ExpressJet Airlines divisions.

Ian has been an avgeek since 2004 when he started spotting US Airways Express planes at Johnstown Airport in Johnstown, Pennsylvania. He now lives in Wichita and enjoys spotting planes in Kansas City and Wichita as well as those flying at high altitudes over his home. He is a pilot with more than 40 hours of experience behind a Cessna 172, Diamond DA-20, and Piper PA-28. He flies Southwest Airlines on most of his domestic flights and Icelandair when flying to Europe. Ian's route map spans from Iceland and Alaska in the north to St. Maarten in the south. He is a student at Wichita State University, where he will study aerospace and mechanical engineering.

Latest posts by Ian McMurtry (see all)