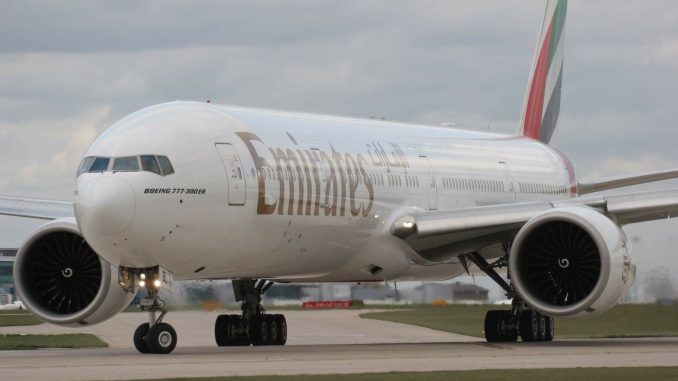 Emirates flight 521, en route from Thiruvananthapuram, India, was involved in a severe accident this morning at Dubai International Airport (DXB). Upon crash landing, footage emerged showing part of the aircraft exploding as the aircraft came to a rest. The aircraft was landing on one of Dubai's two runways, Runway 12L and following the accident lead to the closure of the airport for an undetermined period of time. According to authorities, all 275 passengers and crew on board are accounted for and evacuated to safety.
Initial reports about the aircraft, a Boeing 777-300, show that it is possible that the landing gear did not fully come down prior to landing with air traffic control reminding the crew to extend the gear whilst giving them the clearance to land. Unconfirmed air traffic communications between the tower and the aircraft suggests that a go-around may have been attempted by the Emirates crew but were unable to climb away.
Airport METAR data showed that the airport was experiencing windshear, a sudden change in movement of wind direction and speed, up to an hour before the aircraft attempted to land.
OMDB 030900Z 11021KT 3000 BLDU NSC 49/07 Q0993 WS ALL RWY TEMPO 35015KT 1500
OMDB 030800Z 14012KT 100V180 6000 NSC 48/09 Q0994 WS ALL RWY TEMPO 35015KT 4000 DU
OMDB 030749Z 14012KT 110V180 6000 NSC 47/09 Q0994 WS ALL RWY TEMPO 35015KT 4000DU
The airline provided some information this morning, stating "Emirates can confirm that today, August 3 2016, flight EK521 travelling from Trivandrum International Airport in Thiruvananthapuram, India to Dubai has been involved in an accident at Dubai International Airport. There were 282 passengers and 18 crew on board. The Boeing 777 aircraft, departed at 10.19am from Trivandrum International Airport and was scheduled to land at 12.50pm at Dubai International Airport. We can confirm that there are no fatalities among our passengers and crew. All passengers and crew are accounted for and safe. We are expecting a four-hour network wide delay, more information will be available on the Emirates website and social media channels."
Approximately 5 hours after the crash Dubai International Airport reopened on the other available runway, 12R, with arrivals prioritised over departures. As a consequence of the closure of the airport, many inbounds were diverted to nearby airfields. Emirates Airline cancelled 22 flights due to leave Dubai and six due to arrive from Dubai. The airline has reported an 8 hour network delay on all operations.
It has been reported that whilst all those on board evacuated safely, a fireman at the scene lost his life. Fireman Jassim Al Baloushi died whilst battling the blaze. The director of the GCAA (United Arab Emirates General Civil Aviation Authority) said: "I salute his ultimate sacrifice that kept many from harm's way. Our thoughts and prayers are with his family."
This story is developing…

Joe joined AirlineGeeks in 2014, and in his current role as Editor-in-Chief manages a growing team of writers both in North America and Europe. He enjoys spending the bulk of his time researching, learning and analyzing the latest trends in the airline industry, all while mentoring new members of the AirlineGeeks team who seek to do the same. Areas of research include revenue management, codeshare and alliance partnerships and airline financial results.

Latest posts by Joe Pesek (see all)