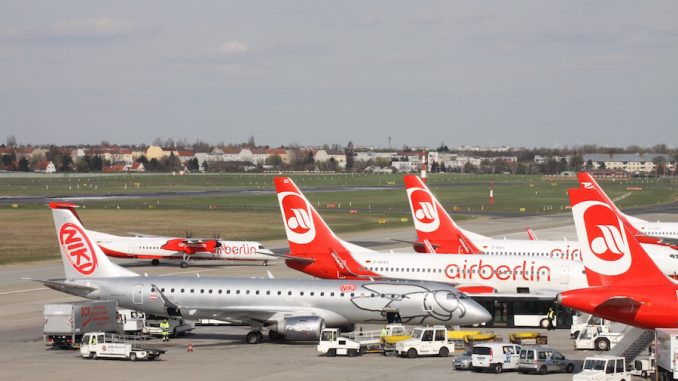 Air Berlin has recently announced plans to restructure itself following crippling year-on-year financial results which saw a record loss of €446m back in April of this year.
In a move to assist with current attempts to complete with the likes of Ryanair, easyJet and Lufthansa's Eurowings, the airline has had to rely on bailouts from its parent owner Etihad Airways, which bought into Germany's second largest airline back in 2012. At the end of last month, the airline announced it would radically restructure its business under the project name 'The New AirBerlin" – a way to create a "lean, dedicated network carrier."
Back in July, the airline confirmed that it no longer owned any of the aircraft in which it operates after selling or leasing back the aircraft that the company had previously owned.  The airlines' current fleet would reduce from 144 to 75 aircraft, stationed at hubs in Berlin and Düsseldorf. Stuttgart and Munich will continue to serve Air Berlin operations while the remaining bases will be shut down (Vienna, Frankfurt, Hamburg, and Leipzig/Halle Airport) with the aim to operate in large and attractive catchment areas and out of airports with long-haul traffic. Routes served by the airline would also drop significantly from 140 to 70. Out of its 144 aircraft, the airline planes to provide 35 Airbus A320s to Lufthansa's Eurowings and 5 to Austrian Airlines all of them being wet-leased. Lufthansa has said its leases on the aircraft would start from March 26th of next year and last for six years.
Around 35 airplanes from the fleet could enter a joint venture with Tui subsidiary Tuifly, a move which is currently in negotiation between the two airlines. Such a set-up would see a separate business unit concentrating on tourist destinations. These two moves would leave the core airline with 75 aircraft: 17 Airbus A330-200 for long-haul operations while 40 Airbus A320 family aircraft and 18 Bombardier Q400 aircraft will be kept to serve European routes, including Niki and Belair subsidiaries.
The restructuring is expected to cause a loss of 1,200 full time workers. The oneworld member has stated that these job losses will happen in a close and constructive collaboration with employee representatives. Also, company officials will work closely with crew unions to "reach a framework for new collective works agreements, which are economically more beneficial for the company."

James is a keen aviation enthusiast from the United Kingdom. He has been flying since the age of 13 and today, aged 21, flies the Airbus A319/320 series for one of Europe's largest airlines.

Latest posts by James Dinsdale (see all)