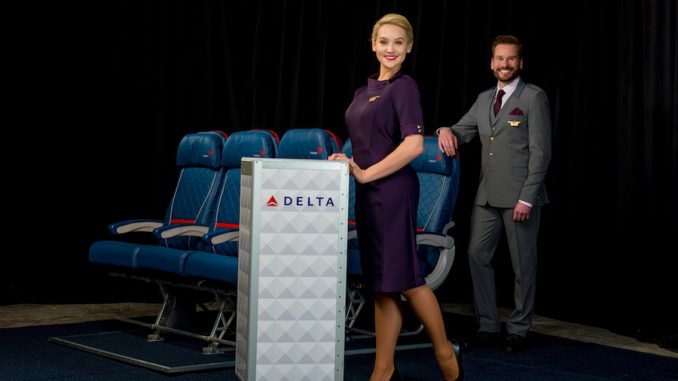 Delta has revealed their new fashion line for approximately 60,000 of their employees. The airline has partnered with New York fashion designer Zac Posen to create new and fashionable uniforms for customer service agents, ramp agents, flight attendants, and technicians.
The new uniforms will replace current designs from 2006 for above wing employees and uniforms for below wing employees designed in 2000.
Delta says that the design "fuses together bold color palettes and classic styles, while paying homage to the heritage and iconic design from decades past to elevate the look and brand of Delta employees."
Posen worked individually with employees from various positions throughout the airline's operation to appropriately design each uniform. Delta's CEO Ed Bastian said, "The world's best employees deserve the best uniforms and this new collection is classically influenced, yet modern. Zac and the Delta team worked closely with our people to create timeless and fashionable pieces that reflect the thoughtful and innovative spirit of Delta. It was clear early on that Zac embodied the innovative design sense, passion and hands-on involvement to create for our employees and our brand a uniform that truly sets Delta apart."
Designer Zac Posen added, "We wanted Delta employees to look glamorous on the job without sacrificing functionality and style. I worked alongside employees to understand how they interact with the clothes they wear and developed a look that empowers and excites, because we want Delta's global workforce to exude the confidence and thoughtfulness that reflects the airline's brand." Posen is know for using innovative fabric, high fashion, and textile technology to create unique, yet simple designs.
Delta employee Chad Holmes also added, "The employee uniform committee has been involved every step of the way, listening to our colleagues' needs through job shadows and focus groups. It has been amazing and humbling to see how the feedback was put into action and inspired this new uniform collection – even in the smallest of details."
The uniforms come fit with small details such as accented Delta logos on all uniforms along with a "signature winged collar" on the women's blouse. The uniforms feature colors such as Passport Plum, Groundspeed Graphite, Cruising Cardinal, along with accent colors of Traveling Thistle and Skyline Slate.
Test uniforms will be worn starting this December by 1,000 employee ambassadors. Adjustments will be made per the feedback from these employees with the final uniforms being distributed to all Delta employees by the first quarter of 2018.
Matthew Garcia became interested in aviation at the age of 12 when he installed Microsoft Flight Simulator X on his computer. He was instantly "bitten by the bug" and has been in love with aviation ever since. Matthew took his first introductory flight in 2013 and began normal flight training in February of 2015. Over the years, Matthew's love and knowledge for aviation has grown tremendously, mainly due to FSX. Garcia flies highly advanced aircraft in a professional manner on a highly complex virtual air traffic network simulating real world flying. In 2016 Matthew achieved his private pilot certificate from the FAA. Now he studies journalism at the University of Nebraska at Omaha.
Latest posts by Matthew Garcia (see all)