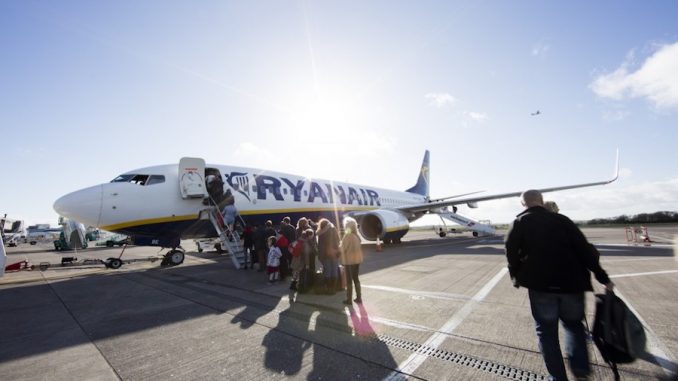 Ryanair's Chief Executive, Michael O'Leary, has continued to share his thoughts on the effect of Brexit to Ryanair and the aviation industry in general. On this occasion, he speculated on the impact to the European Open Skies Agreement.
Speaking at a recent media event, he made the point that if the UK was to leave the EU and therefore be unable to remain in the European Open Skies Agreement, Ryanair, as an Irish-based carrier, may need to establish a subsidiary to continue operation of its three UK domestic routes from London Stansted.
O'Leary sees impact beyond Ryanair, stating that easyJet's situation would be "unsustainable" and that the IAG group may have to be broken up. He added, "BA/IAG gets broken up because you can't have a British airline in the same ownership as three European airlines, because you have ownership restrictions as well as the AOCs."
The Open Skies Agreement was signed in 2007 and first came into effect in 2008. It allows any airline registered in the EU or America to fly to and from any location within the European Union, as well as operate flights to and from America. In the event that the agreement is discontinued, there would be limited flights within Europe and minimal transatlantic flights to or from the United Kingdom. The EU is the single biggest market from the United Kingdom, accounting for 49% of the passengers.
O'Leary has made many comments on the Brexit situation, both in terms of promoting the "Remain" campaign prior to the referendum, and accusing the UK government of mishandling the situation since the result.
Ryanair has announced a 5% cut in profit forecasts, stating that it is due to the value of the UK currency and that their plans for growth have been cut by 7% next year due to Brexit. O'Leary said that this would involve "reallocating those aircraft and those additional flights to countries like Germany, Italy, Poland where we can continue to grow without the risks of Brexit, or the economic uncertainty of Brexit."
In an attempt to counteract projected falls in flight sales throughout the UK over the winter due to the economic uncertainty, it was recently announced that Ryanair's winter fares would be cut by up to 15%. This could now start a price war between competing airlines, as they aim to maintain their market share.
All of these words and actions are based on a level of uncertainty over what will happen to agreements such as Open Skies, but there are potential outcomes which might lead to little or no uncontrolled change for the UK aviation industry. It is considered by many that the UK will have a strong case for adapting existing aviation agreements, or developing new agreements with other countries, to maintain operations as they are at the moment.
Certain countries, such as Norway and Sweden, although not members of the EU, have already been granted access to the Single Aviation Market. For the UK to be in a similar position, this would most likely mean taking up membership with the European Common Aviation Area (ECAA).
In October, when questioned on Brexit outcomes for aviation, Michael O'Leary stated "…in Ryanair we love uncertainty. Because in Ryanair we have the one great response to uncertain times and uncertain economic times, and that is lower prices." While this is a strong and positive statement from Ryanair, alongside the airline's actions, a clear highlight that the times ahead are uncertain for all.
From a very young age, Thomas has been passionate about everything related to aviation.Beginning with air show attendance and flight simulation, this evolved into a desire to adopt a profession in the industry.After achieving a degree in Air Transport Operations and Management, Thomas worked for easyJet, in an operational safety role, before changing to a ground operations role at Swissport.With aviation filling both his time of work and of play, his mind is never far from the subject.
Latest posts by Thomas Gilpin (see all)