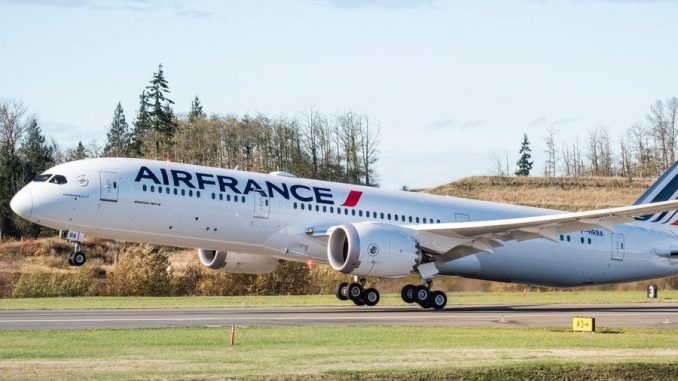 Air France has been anxiously awaiting its first Boeing 787 Dreamliner, which will officially join the carrier's fleet on Dec. 2. To celebrate the arrival of the new aircraft, the company is organizing four inaugural flights from Paris over regions of France from January 7 – 8 of early 2017. The new Boeing 787-9 will join the Air France fleet after traveling directly from the Boeing manufacturing facility in Everett to Paris' Charles de Gaulle Airport (CDG).
The French carrier has 350 aircraft in its fleet, with a total of six of the 787s on order. The aircraft will accommodate up to 276 passengers, distributed in 3 classes: 30 Business, 21 Premium Economy and 225 Economy seats.
The carrier's four "Welcome Flights" are below, and will allow passengers to travel to nearby cities to experience the newest aircraft. While the routes will be temporary, they will be made available for purchase.
January 7 at 8:30 am: flight AF787, from Paris-CDG to Corsica and the Mediterranean Sea
January 7 at 1:30 pm: flight AF789, from Paris-CDG to the Southwest of France
January 8 at 8:30 am: flight AF787, from Paris-CDG to Brittany and the Atlantic Ocean
January 8 at 1:30 pm: flight AF789, from Paris-CDG for a tour of France
To celebrate the occasion, champagne will be served on board along with special festive meals. Flights will include commentary by a group of aviation speakers, and a flight certificate signed by the pilot will be presented to each passenger. The tickets sale for these exclusive flights starts Monday, November 28 (10:30 am, Paris time) with a dedicated website.
In addition to the "Welcome Flights," beginning on Feb. 6, Air France will offer an opportunity to fly on the new 787 aircraft between Paris and London. The flight will operate daily, except on  Wednesdays, with prices from £69 incl. tax in Economy Class or Business Class from £249 incl. tax. Following this test period, the 787 will start its regular operations flying between Paris and Cairo, Egypt,which is a route currently served by both a Boeing 777 and an Airbus A330 aircraft.
AirlineGeeks.com began in February, 2013 as a one-man (er… teenager, rather) show. Since then, we've grown to have 20 active team members, and yes, we're still growing. Some of us are looking to work in the aviation industry as professionals when we grow older. Some of us are still trying to decide what we want to do. That's okay though, because we're all here for the same reason: we love the airlines. We're the youngest team of airline industry journalists out there.
Latest posts by AirlineGeeks.com Staff (see all)