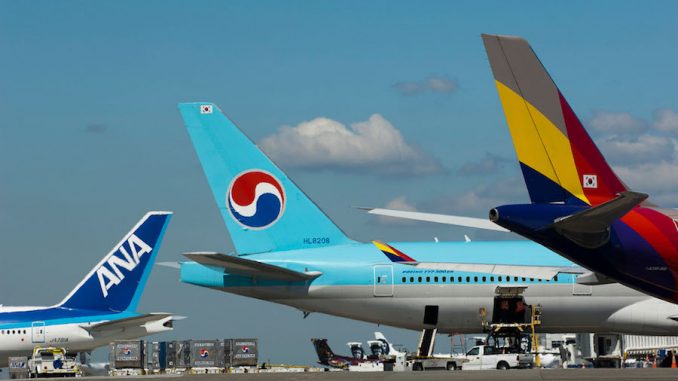 Currently, numerous airlines operate flights between eastern Asia and the West Coast of the U.S. The expansion in these markets throughout the past few years has proved to be immense and the market is still growing. As more Asian population centers pop up around major west coast cities, more markets for flights and new routes become available.
In this series, we take a look at the Asian airlines that fly to West Coast cities, such as Seattle and Los Angeles. We will also take a look at Hawaii due to its major draw for Asian tourists.
Seattle-Tacoma International Airport
Seattle currently has flights from six airlines based in Asia, serving cities such as Beijing, Tokyo, and Seoul. The most recent airline to make their arrival was Xiamen who started service in September of this year. The carrier's arrival in Seattle also marked their arrival in the United States as SEA is the only U.S. destination that Xiamen serves. Flights are operated on their Boeing 787-8 Dreamliner from Xiamen via Shenzhen on a thrice weekly basis.
Korean Air and Asiana Airlines also operate to Seattle from Seoul. Korean currently operates five weekly services on the Boeing 777-300ER, while Asiana also operates five weekly, but on a mix of Boeing 777 and Airbus A330 aircraft.
Furthermore, EVA Air operates via Taipei on a daily basis with a mix of Boeing 747-400s and 777s. Seattle is one of only six U.S. destinations that EVA serves within the U.S.
All Nippon Airlines serves SEA from their hub at Tokyo-Narita with a Boeing 787-9, operating flights on a daily basis. ANA has just recently up-gauged the aircraft type from their Boeing 787-8.
Lastly, Hainan Airlines operates flight to SEA from hubs at Shanghai-Pudong (PVG) and Beijing-Capital (PEK). The flight from PEK is currently operated by an Airbus A330-300 while the PVG service is a Boeing 787-8. The Beijing flight is operated seven times weekly while the Shanghai flight is operated four times per week.
With a total of 38 flights into the airport, the city of Seattle and surrounding areas continues to see growth, offering a sizable amount of flights from Asia. These flights coupled with Alaska Airlines and Delta Air Lines offering great connections to the rest of the country, provide a great outlook for the future of Asian carrier service to Seattle.
San Diego International Airport
San Diego has only one flight from Asia, a Japan Airlines Boeing 787-8 from Tokyo-Nartia. The flight operates on a daily basis. Japan Airlines is one of only four airlines that serve SAN from outside of North America. The three other airlines are based in Europe, which includes Condor and British Airways.
As San Diego and the surrounding area continues to grow, there will be increased demand for either higher frequency or an additional carrier.
Jace has been working at AirlineGeeks for nearly three years. Born in Seattle, Boeing and aviation quickly took over his life and he never stopped looking up. Jace enjoys plane spotting and taking trips just so he can fly. He is currently studying at Embry-Riddle Aeronautical University while earning his Bachelors of Science in Air Traffic Management.
Latest posts by Jace Moseley (see all)