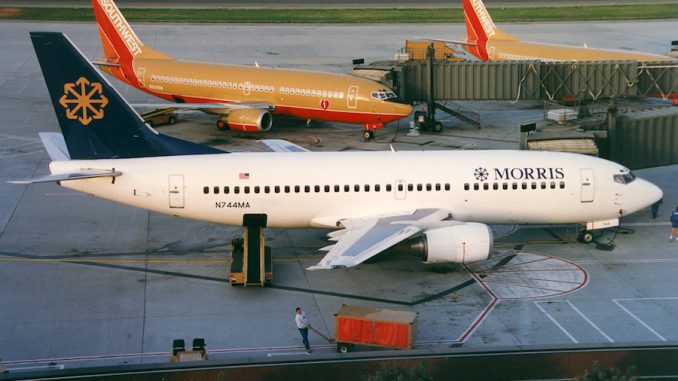 With June Morris's travel agency doing well, the entrepreneur made a move to start a new airline to accompany the thriving business. Morris contacted co-founder of WestJet David Neeleman and together the two helped form a charter airline called Morris Air Service in 1984. Early routes were to Hawaii with Morris Air Services leasing a Hawaiian Airlines Douglas DC-8 to operate from Salt Lake City to Honolulu.
For a long period of time, the airline leased aircraft from Continental Airlines and Hawaiian Airlines as the carrier found its footing. However, the airline moved forward with the purchase of a Boeing 737-300 in 1992. Because Morris Air Service was not a full-fledged commercial carrier in the eyes of the US Department of Transportation, aircraft were immediately transferred to Ryan International Airlines and later aircraft were moved to Sierra Pacific Airlines. Morris immediately took the steps to acquire a commercial operating certificate and by the end of the year they had achieved that and all aircraft operated by Sierra Pacific and Ryan were moved back to Morris Air.
Utilizing a low-cost model and Salt Lake City as a hub, Morris Air expanded rapidly through the early 1990s. The carrier focused on western routes with the airline serving cities as large as Los Angeles and Las Vegas to cities as small as Boise and Eugene. The carrier had as many as 21 Boeing 737-300s in the fleet and over two thousand employees. While the carrier had a full commercial service to take care of, it still made room for leisure charters with flights to Mexico and Hawaii continuing to operate in 1993.
While Morris Air was succeeding, the leaders weren't doing so well. Neeleman had moved on to new companies on his way to founding jetBlue in 2001 and June Morris had become sick during the end of 1993. Despite turning a $200 million profit in 1993, Morris started to listen to offers to sell off the low-cost carrier. A deal was struck with Southwest Airlines on December 31, 1993 where the carrier would be bought off of June Morris in exchange for $129 million in Southwest stock and a seat on the board of directors.
The merger took under a year as Southwest slowly replaced Morris Air at most of their destinations. Southwest inherited the 21 Boeing 737-300s and used them alongside their own fleet. Morris Air officially ended service on October 4, 1994 with the last flight operating in Salt Lake City. Southwest disbanded charter service to Mexico and flights to Eugene but kept most of the Morris Air destinations.
Despite keeping most of the Morris Air destinations, flights from Salt Lake City slowly declined as the carrier chose Denver as a better western focus city. The Morris fleet was integrated into Southwest and the old registrations were removed to keep the overall Southwest fleet consistent at NxxxSW. The Morris Air Boeing 737s operated in the Southwest fleet for over fourteen years before being parted out with the rest of the 737 type beginning in 2008. June Morris recovered from her illness and served on the Southwest board of directors until she retired from the role in May 2006.
Although Ian McMurtry was never originally an avgeek, he did enjoy watching US Airways aircraft across western Pennsylvania in the early 2000s. He lived along the Pennsylvania Railroad and took a liking to trains but a change of scenery in the mid-2000s saw him shift more of an interest into aviation. He would eventually express this passion by taking flying lessons in mid-Missouri and joining AirlineGeeks in 2013. Now living in Wichita, Kansas, Ian is in college majoring in aerospace engineering and minoring in business administration at Wichita State University.
Latest posts by Ian McMurtry (see all)