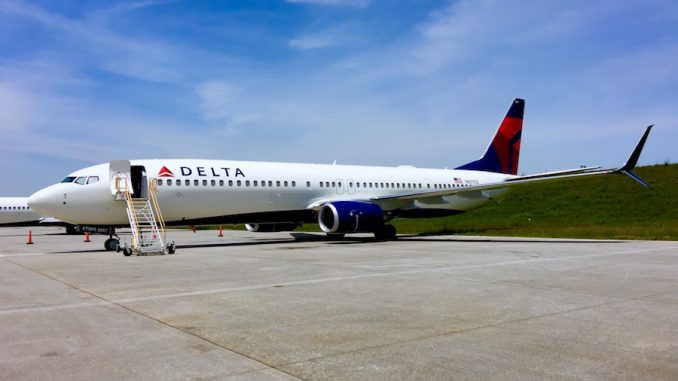 Delta Air Lines has announced that they, along with their partner Aeromexico, have become the official airline of the Los Angeles Football Club (LAFC). The partnership, released on Monday, will allow the two airlines to provide transportation for the Los Angeles-based soccer team, starting in 2018. A press release stated, "the partnership also includes category exclusivity, community outreach, fan engagement, integrated interior and exterior digital signage, as well as content."
The new partnership is yet another expansion of Delta's 2016 campaign, "Dream Up, L.A." The campaign is connected to partnerships with the Los Angeles Kings, Los Angeles Lakers, UCLA, The Rose Bowl, the Staples Center, and most recently, the LA Football Club.
Delta is also serving as a marquee founding-level supporter and "Golden-Boot" Club member. The sponsorship will be eminent during pre-game walkouts, and via digital signs posted around the stadium.
Senior VP of Corporate Partnerships for LAFC, Jamie Guin, added, "Delta Air Lines embodies all of the core attributes we look for in a partner as both industry leader and iconic global brand, while representing a common aspiration for Los Angeles." LAFC Club President Tom Penn also stated that "from day one, our two organizations have shared in a collective vision for and commitment to Los Angeles. We are proud to partner with an industry leader, and look forward to elevating the LAFC experience for both our fans and players with Delta and Aeromexico by our side."
Delta Air Lines and Aeromexico first became codeshare partners in 1994, but in 2015, the two airlines were the largest trans-border alliance between the United States and Mexico. The alliance was a huge historical agreement for both countries and the two carriers. Together, the two are one of the largest operations to serve Los Angeles International Airport and Mexico with over 100 flights a week to nine different Mexican destinations. Customers will also be able to travel on 1,000 weekly flights between other U.S. cities and Mexico.
Delta and Aeromexico are not alone when it comes to partnering with soccer teams. The two airlines are joining a mass number of carriers who partner with soccer teams around the world. Emirates has partnerships with AC Milan, SL Benfica, Hamburger SV, Real Madrid CF, Olympiacos FC, and Arsenal. The airline also had a partnership with Paris Saint-Germain in 2005/2006. That deal has since ended.
Etihad Airways partnered with Manchester City in 2009, which also required the name change of the team's stadium to Etihad Stadium and the naming of Etihad Campus, a sports complex for the team of Manchester. Etihad also has five-year partnerships with Melbourne City FC and New York City FC. Both teams, who have nearly the same team colors, will have Etihad's name and logo on player uniforms.
Matthew Garcia became interested in aviation at the age of 12 when he installed Microsoft Flight Simulator X on his computer. He was instantly "bitten by the bug" and has been in love with aviation ever since. Matthew took his first introductory flight in 2013 and began normal flight training in February of 2015. Over the years, Matthew's love and knowledge for aviation has grown tremendously, mainly due to FSX. Garcia flies highly advanced aircraft in a professional manner on a highly complex virtual air traffic network simulating real world flying. In 2016 Matthew achieved his private pilot certificate from the FAA. Now he studies journalism at the University of Nebraska at Omaha.
Latest posts by Matthew Garcia (see all)