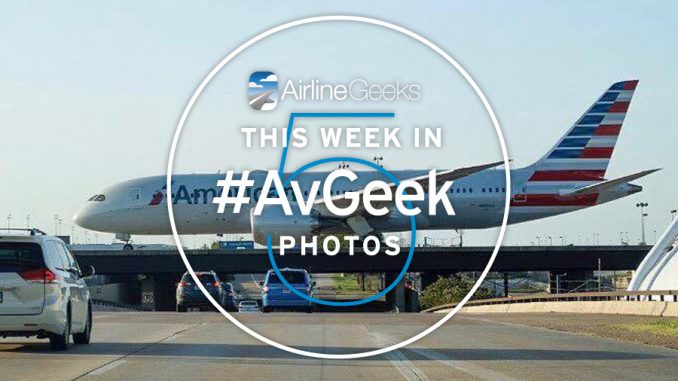 A photo is a thousand words. An aviation photo can serve as a testament to the essence and magic of flight while also telling a story. Each week, the AirlineGeeks team compiles five aviation photos that tell a story and capture the uniqueness of flight.
Aviation photographer Artem Kashirin (@artemairplane) captured this photo of RwandAir's newest Airbus A330 landing in Toulouse after a test flight. The East African airline has two of these brand new Airbus A330s in its fleet.
AirlineGeeks.com Editor Mateen Kontoravdis took this photo of two Southwest Airlines Boeing 737s taxing at Austin-Bergstromtrom International Airport. Out of 16 airlines currently flying into AUS, Southwest Airlines flies the most passenegers per year.
This week Airbus sent an Airbus A350-900XWB to Paris Orly Airport to run tests for Air Caraibes who will be receiving their first A350 soon. Valentin Yvon (@ValYV88) shared with us this great photo of the aircraft taxing on an overpass at the airport.
Notice the extended winglets on this Delta Connection Embraer E175 aircraft operated by SkyWest? The longer winglets in this photo by @GDClearedToLand help the aircraft improve its overall fuel burn.
This week's highlight in the aviation world was the first flight between Doha and Auckland. This flight is now the longest in the world, beating Emirates that previously held the record for an A380 flight from Dubai to Auckland. Zac George (@pointsfromthepac) captured this image of the Boeing 777-200LR aircraft resting at the gate after the flight.
AirlineGeeks.com began in February, 2013 as a one-man (er… teenager, rather) show. Since then, we've grown to have 20 active team members, and yes, we're still growing. Some of us are looking to work in the aviation industry as professionals when we grow older. Some of us are still trying to decide what we want to do. That's okay though, because we're all here for the same reason: we love the airlines. We're the youngest team of airline industry journalists out there.
Latest posts by AirlineGeeks.com Staff (see all)