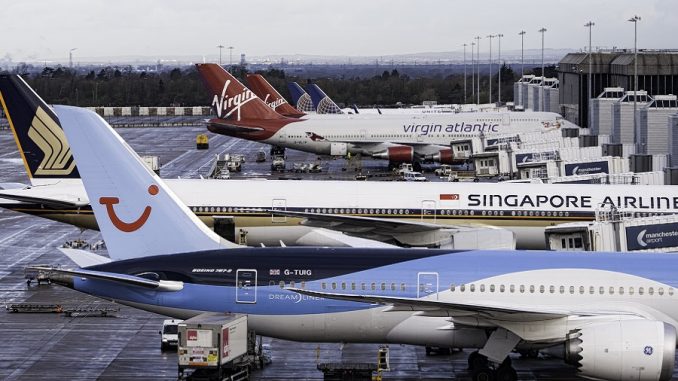 Manchester Airport recorded a record-breaking January 2017 to kick-start the airport's accolades for the year. Over 1.6 million passengers passed through Manchester within that single month, which contributes to the airport's 11.3% year-on-year growth. This record displaces Stockholm as Manchester enters the leader board. Because of this surge, the annual rolling total of passengers accounts to 25.8 million per year. Manchester places ahead of European capitals such as Lisbon, Athens, Helsinki, Brussels, and Vienna.
Commenting on this record month was Ken O'Toole, the CEO of Manchester Airport: "To enter the top 20 airports in Europe is a significant milestone and sees us rub shoulders with the leading gateways on the continent, in terms of total passenger numbers, the mix of destinations available and the aircraft operating on those routes. It is pleasing that growth has been delivered across the board, with all categories of carriers continuing to recognize the strength of our catchment area, which stretches from North Wales in the west to Humberside in the east and up to the Scottish Borders." 
He continued, "A growing number of international visitors are also looking to Manchester Airport as their gateway not just to the North but the UK as a whole. As 2017 continues we aim to bring on more long-haul routes, in order to plug the 22m people in our catchment area to key global destinations, either to unlock investment and economic opportunities for businesses, or for far-flung family holidays for leisure passengers."
Manchester received a strong level of growth in long-haul traffic, with numbers rising by 13% over the past 12 months. This strong growth in January 2017 marks the 34 months of consecutive growth for Manchester itself.
Emirates added their third Airbus A380 onto the Manchester route, which eliminated the morning Boeing 777. This enables more passengers and cargo to be carried to both Manchester and Dubai and onward within Emirates' connectivity portfolio. January also saw the start of Airbus A350 operations at Manchester with Singapore Airlines operating a new route to Houston. The route stops over in Manchester before continuing on to Singapore. Short-haul growth is another factor in the airport's surge, with the most popular destinations being Dublin, Amsterdam, Tenerife, and Paris.
Demand at the airport went up in January by 17.4%, which means that additional aircraft types were seen. Over 14,000 aircraft took off and landed at the airport within the span of the month, which is equivalent to 500 movements per day on average.
Cargo displacement grew with over 8,000 tons carried, an increase of 13% compared to January 2016. That number also equates to a 10% year-on-year increase with such annual rolling tonnage amounting to 114,000 tons per year transported from Manchester to destinations across Europe and globally.
Further passenger growth is forecasted to increase with the addition of new routes that are upcoming over the next two to three months. Earlier this week, Manchester Airport and Royal Air Maroc announced plans of operations to begin in March three times per week between Ringway and Mohammed V International Airport – Casablanca using a Boeing 737-800 on Tuesdays, Thursdays, and Saturdays.
On top of that, Oman Air announced earlier last year that they were to begin services between Muscat and Manchester in April of this year, which will add more of a percentage onto the long-haul portfolio. The summer also has the likes of Virgin Atlantic expanding their network from Manchester on destinations to San Francisco and Boston.
James is a passionate AvGeek who has been actively spotting for years. James has been an Aviation Enthusiast for 7 years and has a fond likening to Concorde! James hopes to grow in the aviation industry with journalism being his primary focus.
Latest posts by James Field (see all)