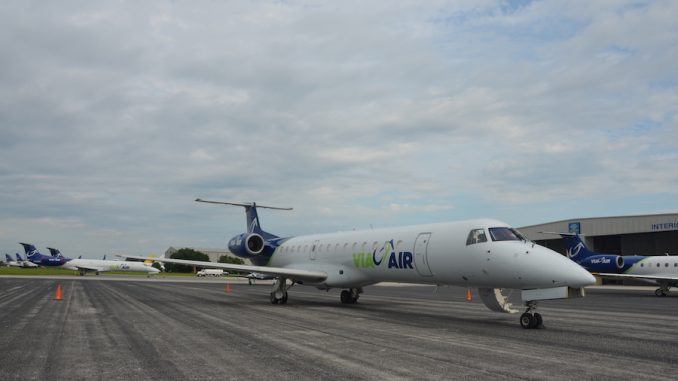 Maitland, Fla. based ViaAir has announced that they will be launching service to five major US airports from Branson, Missouri beginning on May 25, 2017, which will include Austin, Chicago, Dallas, Denver, and Houston.
According to the airline, service to Dallas-Fort Worth will be operated twice weekly, on Friday and Sunday, and service to Houston and Austin three times weekly on Monday, Thursday, and Saturday for Houston, and Monday, Friday and Sunday for Austin. Flights to Denver are scheduled for Monday and Friday, and flights to Chicago Midway Airport for Thursday,
Flights to Denver are scheduled for Monday and Friday, and flights to Chicago Midway Airport for Thursday, Saturday, and Sunday.
Discounted prices will range between $99 and $149, and the promotional flights are on sale as of Monday through March 13. The sale will continue through September 4. ViaAir will fly their 50-seat Embraer ERJ-145 aircraft on all of these routes.
"It is always a great privilege and pleasure for Via Airlines to announce new route expansions and partnerships" stated Irit Vizer, President and COO of Via Airlines. "As our company's foundation is based on providing safe, affordable, and hospitality-centric air travel experiences, it only seemed  natural to introduce Via Airlines into the Branson market being that the airline, airport, and destination all share the common bond of providing its visitors and guests with world-class service and experiences."
These new routes also mark a sizable step forward for Branson. The airport only sees seasonal public charter service on Branson Air Express to cities such as Austin and New Orleans. Both Southwest and Frontier pulled out of the city in 2014, significantly decreasing the airport's overall load factor.
Currently, the carrier operates low-cost flights primarily to smaller airports, including Beckley, Shenandoah, St. Augustine, Parkersburg, and Charlotte, among others. These will be some of the first major US airports that Via will launch service to, and it will be a milestone for the expanding airline.
Ashley is currently a senior in high school and plans on pursuing a career in aviation or journalism. Her favorite airplanes include the Boeing 777, 737MAX, and Airbus A350. She enjoys taking flights on various airlines to different airports and planespotting at her local airports.
Latest posts by Ashley Magoon (see all)