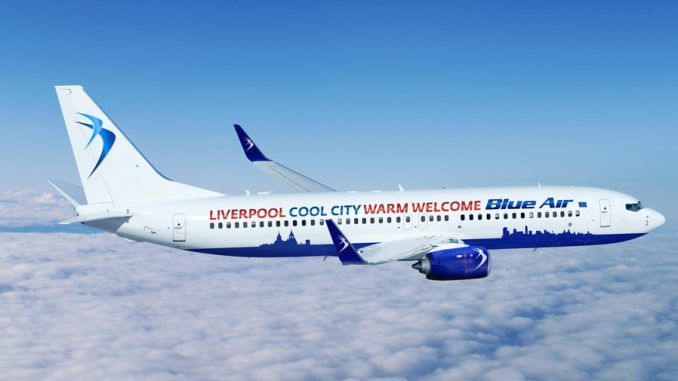 Romanian carrier Blue Air has unveiled a brand new livery on one of their Boeing 737-800s to boost current partnership growth with Liverpool Airport. The design for the livery was hosted via a competition in which the general public could participate.
This competition was following news back in October 2016 that Blue Air was to expand operations out of Liverpool over the course of 2017 with new services to Rome, Milan, Hamburg, and Alicante as well as having plans to base one Boeing 737-800 out of Liverpool alone.
The based aircraft will feature the livery and will commence operations from the end of March.
The winners of the competition were Kenny Thomson, Will L'armour, and Jonathon Davidson who made the designs for the livery based on Liverpool's musical links as well as its famous city skyline. 
The winners received two roundtrip flights all paid for by Blue Air from Liverpool Airport. Work on the livery has started and will coincide with the base launch at the end of the month. 
Tudor Constantinescu, Blue Air's Chief Commercial Officer, said, "We are very proud to start our Liverpool base operations at the end of this month. Apart from the top quality flying experience, we are committed to delivering an airline that gives passengers a really local feel and a flavour of the Liverpool City Region and the dedicated livery for our first based aircraft hopefully reflects this. We congratulate the winners and hope they will enjoy their free flight to one of Blue Air's Liverpool destinations at least as much as we are excited about our new venture with the scouse community."
Robin Tudor, Head of PR for Liverpool John Lennon Airport commented, "This has been a fantastic opportunity and the final design that the three winners have all contributed to, will soon be seen by thousands of people at home and abroad."
Blue Air's 737-800s will seat 189 passengers. As the seating plan on their 737s will be the same as Ryanair's, this will give the carrier the opportunity to go into direct competition with the Irish low-cost carrier. This will only apply to the Alicante route as that is the only operation that Blue Air is in direct competition with Ryanair.
In terms of Ryanair's operations at Liverpool's neighboring airport, Manchester, the Irish carrier operates to Alicante, Hamburg, Rome, and Milan, which are all four of Blue Air's new routes from Liverpool.
From an analytical perspective, Ryanair could counter such competition with their extensive operations at Manchester and persuade customers within the north-western catchment area to use Manchester on those specific routes instead.
James is a passionate AvGeek who has been actively spotting for years. James has been an Aviation Enthusiast for 7 years and has a fond likening to Concorde! James hopes to grow in the aviation industry with journalism being his primary focus.
Latest posts by James Field (see all)