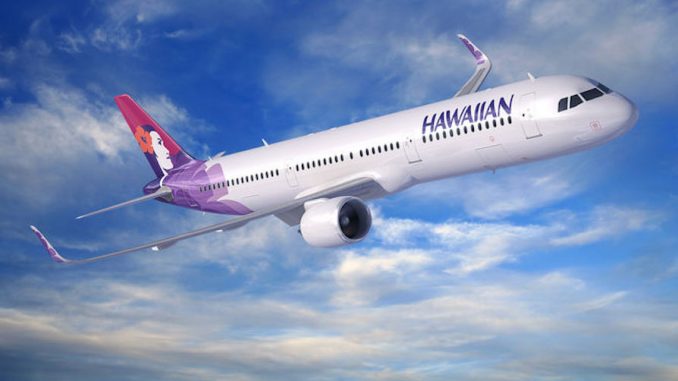 In an announcement made at the sixth annual Aircraft Interiors Expo in Hamburg, Germany, Honolulu-based Hawaiian Airlines, revealed its distinctive cabin design for their new A321neo fleet arriving later this year.
In an attempt to keep with their design language of "Earth, Sea, and Sky," the carrier teamed up with UK-based design firm, JPA Design, to assist in designing its new product.
"Hawaiian presented JPA Design with a very unique proposition and set of creative challenges," said Tim Manson, Design Director at JPA Design. "Collaborating closely with the team at Hawaiian, we crafted a cabin interior that draws inspiration from Hawaii's rich past and contemporary present. Symbolism from Hawaii's story is woven through out the cabin interiors, subtly immersing guests in an environment that brings an elevated authentic premium leisure experience."
From Hawaiian crafts, bark cloth (kapa), and Hawaiian language used in signage, passengers onboard the new aircraft will notice elements of Hawaii's culture and natural beauty throughout the cabin. Additionally, an LED mood-lighting system will be programmed to evoke Hawaii's sunrises and sunsets in order to amplify the passenger's mood throughout their journey.
"With each cabin, we try to integrate a sense of identity and place, while remaining fresh and modern in our design language," said Avi Mannis, Hawaiian Airline's Senior Vice President of Marketing. "In that sense the A321neo has provided a superb canvas on which to project a modern sense of modern Hawai'i."
Keeping with the carrier's award-winning onboard hospitality service, Mea Ho'okipa (translation: I am host), Hawaiian will also begin to offer new onboard services and amenities. The A321neo will feature wireless streaming inflight entertainment through the airline's Hawaiian Skies channel.
Passengers will also be able to download an app on their personal devices to view a selection of complimentary movies, TV shows, and Hawaii content. The new cabin design will also feature holders for personal hand-held devices and tablets in the tray tables and backrests of the seats.
The new cabin design will also feature three cabin products, with 16 First Class seats, 45 Extra Comfort seats, and 128 Economy seats. Premium Cabins will feature leather recliners incorporating Hawaiian's signature 'wave' design. The Extra Comfort seats will offer five more inches of legroom and seats in all cabins will include USB outlets and pivoting overhead bins to maximize the space available for luggage.
Hawaiian currently expects to take delivery of their 18 new A321neo aircraft between 2017 and 2020. Considered the most fuel-efficient aircraft of its type, the A321neo will complement the airline's fleet of long-haul aircraft flying between Hawaii and the airline's Western U.S. network. Sales and routes for the new aircraft will be announced later this year.
An "AvGeek" for most of his life, Akhil has always been drawn to aviation. If there is an opportunity to read about an airline, fly on a new airplane, or talk to anyone about aviation, he is on it. Akhil has been on over 20 different kinds of aircraft, his favorite being the MD-80. Additionally, he has visited 5 continents and plans to knock out the remaining two (Africa and Antarctica) soon. Based in Dallas, Akhil graduated from Texas A&M University with a degree in Management Information Systems and currently works in consulting. His dream is to become an airline executive.
Latest posts by Akhil Dewan (see all)