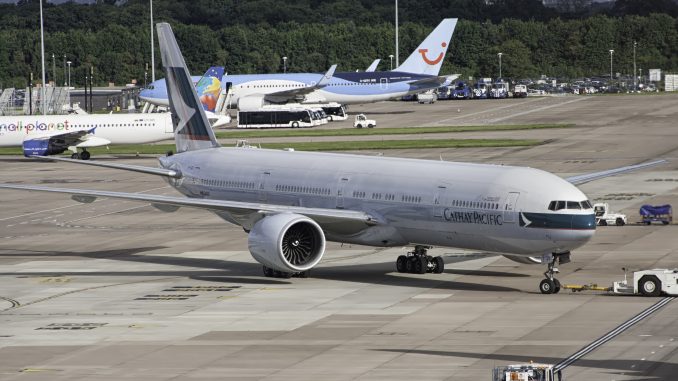 Manchester Airport is the gateway to the North of the UK. On Tuesday, the airport announced that their annual passenger numbers have grown by double digits seeing a 2.7 million yearly passenger increase over the last 12 months, which equates to an 11.4% growth.
Even with the current woes over BREXIT, Manchester Airport has seen a huge increase to its European destination portfolio, with Spain seeing the largest increase in passenger numbers with around 1.1 million now flying to the country.
Spain is not the only European region to see a large increase in passenger numbers with France, Germany, and Italy also seeing increases of 261,000 passengers, 228,000 passengers, and 198,000 passengers.
Flights across the board have grown in passenger numbers in Manchester except for North African destinations which have seen a decrease, likely down to the current political issues and safety risks of certain destinations in the area.
Through the month of March alone, Manchester Airport recorded a 1.9 million passenger increase which means they have now seen a 10.1% year-on-year increase in passenger numbers.
There is no doubt that this substantial growth has been assisted by airlines that operate out of Manchester increasing their route portfolios to more destinations, one of these being UK carrier Virgin Atlantic who added two new routes out of Manchester over the month of March offering direct flights to San Francisco and Boston.
In addition to Virgin Atlantic, Hainan Airlines is also offering a direct service to Beijing and Singapore Airlines now operates flights to Houston, this has allowed Manchester to connect with the markets around the world.
Ken O'Toole, Manchester Airport CEO, said: "March rounded off a strong year of growth at Manchester, meaning we are now one of the fastest growing airports not just in the UK, but in Europe as a whole. It was particularly pleasing to end the month with the launch of our San Francisco service, which is a route we have long coveted and one that business and leisure passengers have been calling for some time. It was the latest in a long list of key long haul routes we have added over the past 12 months, ensuring we are connecting the North with key markets across the world. That is on top of extremely strong growth in flights to short-haul locations, meaning Manchester has one of the most varied route networks in the world. As the summer season starts and the Easter holidays are upon us, we are looking forward to continuing growth and further additions to our list of destinations."
Cargo also saw an increase of 11% from March 2016 which was a boost of 9,933 tons traveling through Manchester Airport, equating to a 13% increase year-on-year with the annual tonnage that comes through Manchester now at 116,468 tons.
All of the success has not just placed Manchester as the fastest growing airport in the UK but has also allowed them to become the second fastest in Europe.
In an analysis report from Airport Councils Europe, Manchester was among the airports now serving over 25 million passengers a year, meaning that only Moscow Sheremetyevo is currently growing faster than Manchester.
Tomos has had a keen interest in aviation for over 10 years and 4 years ago he decided to take it to the next level. He currently holds a private pilot's license and is working towards his commercial license.
Latest posts by Tomos Howells (see all)