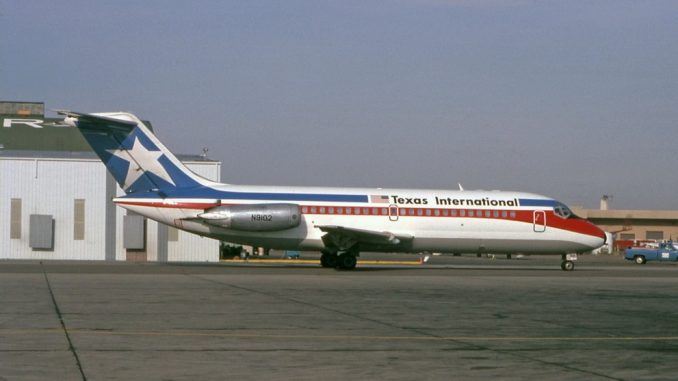 Some states have been successful in creating airlines named after themselves. Hawaiian Airlines and Alaska Airlines are the two notable examples that operate and continue to grow and expand on a daily basis. Many other states in the past also operated their own air carriers that were either sold and merged into larger airlines or ceased operations.
Texas International Airlines was founded in 1944 as Aviation Enterprise. With hubs in both Dallas and Houston, the airline began operating flights under the name Trans-Texas Airways. Trans-Texas Airways used DC-3 aircraft to fly routes within the state. Cities such as Alpine, Dallas (Love Field), Eagle Pass, El Paso, Fort Stockton, Galveston, Harlingen, Houston (Hobby Airport), Marfa, San Antonio, Victoria, and many other smaller cities were served.
By 1966, the airline began utilizing DC-9 planes. Utilizing 16 DC-9s, Trans-Texas Airways continued operating more flights within Texas and bordering states. In April of 1969, the airline officially changed its name to Texas International Airlines. They were now flying to eight other states around the U.S. and three destinations in Mexico.
During the mid-70s, competition was heating up against Southwest Airlines. To win customers over, Texas International decided to offer discounted fairs that were advertised as "Peanut Fares."
Dallas and Houston are known to have many daily flights from American, United, and Southwest connecting the two large metro areas. By 1978, Texas International was operating 18 flights a day between Dallas Ft. Worth and Houston IAH and Hobby.
In 1979, Texas International Airlines was also the first airline in the world to offer a modern frequent flier program. In 1982, they acquired Continental Airlines and by 1983 all aircraft were in the Continental livery. Today, Texas International Airlines is one of many that were created and merged over the years to ultimately create United Airlines.
While the legacy of Texas International is over, the impact it had on its predecessors can still be seen with United having one of its largest hubs at Houston Intercontinental Airport, a former hub of TIA.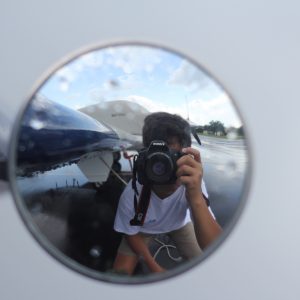 Mateen has been interested in aviation from a very young age. He got his first model airplane at six and has been airplane spotting since he was nine years old. He has always had a passion for aviation and loves learning about different aspects within the industry. In addition to writing for AirlineGeeks, Mateen is also an editor for his high school's newspaper. You can also find him on Instagram (@Plane.Photos) where he enjoys sharing his aviation photography with thousands of people everyday.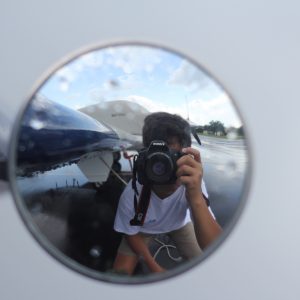 Latest posts by Mateen Kontoravdis (see all)