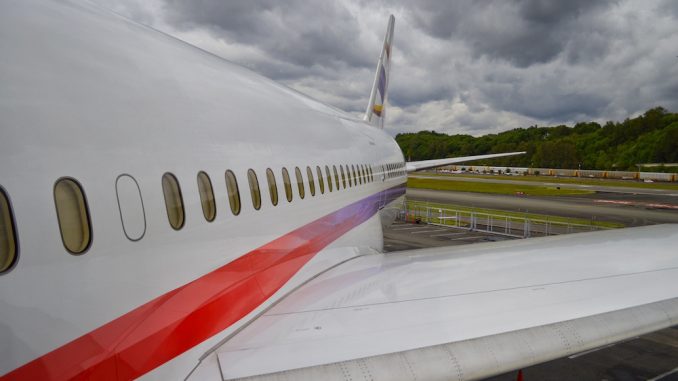 2-DEER is the registration for any spotters who wishes to track and log this aircraft. Its next destination is  Morocco on Thursday after visiting Doha last week, but on Tuesday, at four in the afternoon on a rare, semi-sunny, high clouded day, this ultra high class, one of a kind 787-8 Dreamliner Boeing Business Jet is sitting in the parking lot of the Museum of Flight, on display to the press and the awaiting business executives eager to take the luxurious aircraft home.
The interior is nothing short of spectacular; the highest of class fabrics covered every surface in a beautiful mix of beige, gold, and white. In the front, couches, tables, and several flat screen TVs populated the cabin, mixing in the needed 21st-century sophistication with the luxury.
A mock meal spread was on display as well, delicacies prepared in a stunning fashion laid out with a full dining set, and of course, a bottle of champagne. The aft of the aircraft, all though less outfitted with amenities, hardly lacked.
"It's not only an aircraft, it's a masterpiece of art. Everything is perfect, you don't feel any difficulty. It's like your home," said the HNA Group CEO in regards to the DeerJet aircraft.
A complement of lie-flat seats with personal entertainment systems and ample storage space, mixed with a large guest bathroom, and possibly one of the sky's largest galleys, filled the rest of this widebody. Up next to the cabin were crew rests and the master bedroom.
All elements came together to produce the perfect flying conditions – a temperature and humidity controlled cabin, the ultimate in comfort, and access to reliable technology, along with amenities to stay fresh to create the optimum climate to reduce, and even eliminate jet lag, while maximizing time; all important for the business execs who will no doubt use this aircraft.
All in all, it was absolutely incredible. To be able to glimpse into the life of the people who manage the world's money, make some of the biggest business decisions, and shell out the cash to afford such a luxury is an amazing opportunity.
Photo gallery:
All images by AirlineGeeks Photographer Ryan Krautkremer 
AirlineGeeks.com began in February, 2013 as a one-man (er… teenager, rather) show. Since then, we've grown to have 20 active team members, and yes, we're still growing. Some of us are looking to work in the aviation industry as professionals when we grow older. Some of us are still trying to decide what we want to do. That's okay though, because we're all here for the same reason: we love the airlines. We're the youngest team of airline industry journalists out there.
Latest posts by AirlineGeeks.com Staff (see all)