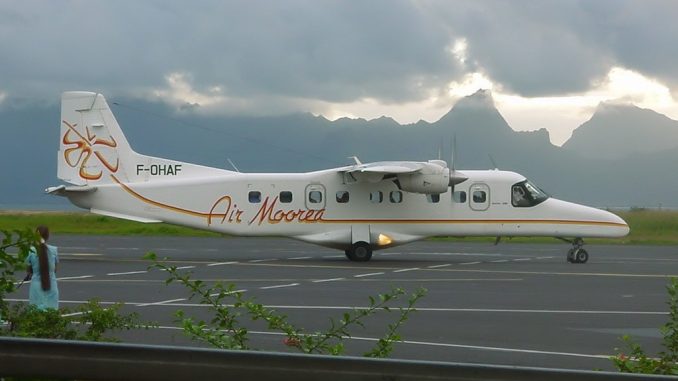 The islands of French Polynesia are a tropical getaway for many people each year, but traveling between islands can be a pain, with most of the main traffic filtering through Tahiti's Faa'a International Airport. A solution for the island of Moorea was the creation of Air Moorea in 1968.
The carrier started service between Faa'a and Moorea by leasing various small prop airplanes. The airline found some early success, soon adding a full time Britten-Norman Islander in the 1980s to allow for more consistent service as the airline flew the Faa'a-Moorea route multiple times a day.
As the carrier saw more success on their solo route, Air Moorea decided to add larger aircraft to the Moorea-Faa'a route with the arrival of the Dornier 228 and De Havilland DHC-6 Twin Otter. This allowed for more seats as the route saw over twenty flights a day.
As the Air Moorea was expanding, competition was also growing as Air Tahiti started to add routes and could beat Air Moorea thanks to its ability to offer many other connections at their main hub in Faa'a.
Air Moorea continued to maintain their flight schedule until Air Tahiti placed a bid to buy out the small airline. The carrier agreed to become part of Air Tahiti and continued to focus on their primary route. Now that they were part of Air Tahiti, passengers flying Air Moorea were now allowed to transfer onto Air Tahiti flights at Faa'a.
The airline retired the Dornier 228 and added an extra Twin Otter, leaving the airline with three Twin Otters to operate their popular and lone route. However, trouble came to Air Moorea in 2007 when Flight 1121 crashed after takeoff from Moorea Airport. This was the airline's first crash and gained much news in Polynesia with people calling out the airline for a lack of oversight.
The fleet was grounded following the event, as the airline began investigating any potential issues. It would eventually be determined that the elevator cable snapped due to the aircraft being exposed to jet blasts from widebody aircraft at Faa'a, causing strain on the cord.
Following the events of Flight 1121, the airline lost some popularity due to safety concerns. With the Air Moorea name now tainted, Air Tahiti decided to roll the carrier into the main airline in 2010. The three De Havilland aircraft were repainted into Air Tahiti colors and the Faa'a-Moorea route would be serviced by Air Tahiti aircraft, before eventually being upgraded to Air Tahiti's ATR aircraft due to popularity.
Although Ian McMurtry was never originally an avgeek, he did enjoy watching US Airways aircraft across western Pennsylvania in the early 2000s. He lived along the Pennsylvania Railroad and took a liking to trains but a change of scenery in the mid-2000s saw him shift more of an interest into aviation. He would eventually express this passion by taking flying lessons in mid-Missouri and joining AirlineGeeks in 2013. Now living in Wichita, Kansas, Ian is in college majoring in aerospace engineering and minoring in business administration at Wichita State University.
Latest posts by Ian McMurtry (see all)