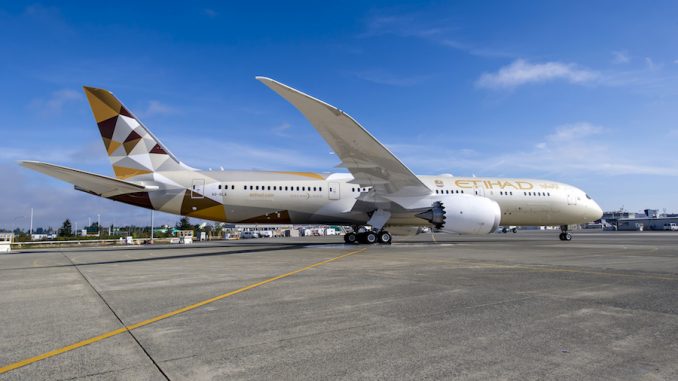 On Thursday, UAE-based carrier Etihad announced that they will be entering a codeshare agreement with China Southern Airlines. This new agreement now means that customer flying with China Southern have the option to book codeshare flights to and from their hub in Abu Dhabi and connect to Etihad's route network of over 100 destinations across the globe.
Etihad now has codeshare agreements with 53 airlines around the world, Mohammed Al Bulooki, Etihad Airways' Executive Vice President of Commercial said, "The codeshare partnership with China Southern Airlines is a significant milestone in the airline' network development strategy of working with partners to extend our reach, and provide business and leisure travellers with more options. [This] is one of the fastest growing travel markets in the world, and one of the most competitive."
China Southern added that the partnership has strengthened its position in the global network and it will provide increased benefits to its passengers. 
The codeshare agreement means that daily flights will be operated by Etihad from Abu Dhabi to Beijing, Shanghai, and Chengdu under China Southern Airlines' 'CZ' code.
Al Bulooki went on to add that the recent developments such as the introduction of visas for Chinese citizens visiting the UAE will help promote the country not only as a strong leisure destination but as a business one also. The UAE has seen large investments from businesses over the last few years as the country continues to grow.
Zhang Lin, China Southern Airlines' senior management on international cooperation, welcomed the establishment of the new partnership with Etihad Airways' team. He said, "We are excited about the new partnership with Etihad Airways, which will further strengthen the global network of both airlines and provide increased benefits to all our passengers."
While it is currently not in place, the two airlines are currently working on a reciprocal loyalty partnership to enable their passengers to earn and redeem flight miles across each carrier's route network worldwide.
Tomos has had a keen interest in aviation for over 10 years and 4 years ago he decided to take it to the next level. He currently holds a private pilot's license and is working towards his commercial license.
Latest posts by Tomos Howells (see all)