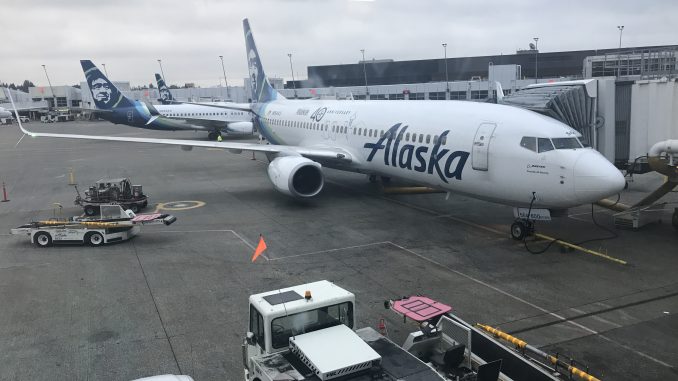 On June 28, 2017, in a special gate celebration at Seattle-Tacoma International Airport, Alaska Airlines introduced a Boeing 737-800 with a special Mariners livery, commemorating the 40th anniversary of the team as well as their partnership.
Passengers bound for Santa Ana, California on Alaska flight 506 were greeted by the Mariner Moose along with snacks and music in the celebration before taking to the skies in the special airplane.
"As Seattle's hometown airline, and the exclusive domestic airline of the Mariners, we are honored to celebrate this milestone with Seattle's hometown team," said Alaska Airlines CEO Brad Tilden. "We're swinging for the fences this season. In addition to a specially themed aircraft, we're planning a Mariners scavenger hunt throughout the entire Pacific Northwest along with several other activities to delight fans throughout the season."
The aircraft livery includes several elements, including the official Mariners-Alaska partnership hashtag of #MyOhMariners, which is displayed to the right of the boarding door, the Seattle Mariners name and logo displayed on the side with text reading 40th Anniversary, and a simple design of the Space Needle and Mount Rainier.
"The Mariners couldn't be happier to join with Alaska Airlines to celebrate 40 years of Mariners baseball all season at Safeco Field. Displaying our 40th anniversary logo on one of Alaska's planes and having Alaska's CEO throw out the first pitch at the game today are meaningful ways to commemorate our long-standing partnership," stated Seattle Mariners president and COO Kevin Mather.
The airline's partnership with the Mariners is beyond simply being the hometown airline for the hometown team. During the 2017 season, Alaska has committed to donating 10,000 miles to the United Negro College Fund (UNCF) – Seattle Chapter for every home run hit by a Mariners player in correspondence with the Mariners Care program. Donated miles will help students travel for college tours and between school and home, along with other programs offered by the organization.
In addition to the gate celebration, Alaska Air CEO Brad Tilden will throw the first pitch in the Mariners game later in the afternoon.
Ashley is currently a senior in high school and plans on pursuing a career in aviation or journalism. Her favorite airplanes include the Boeing 777, 737MAX, and Airbus A350. She enjoys taking flights on various airlines to different airports and planespotting at her local airports.
Latest posts by Ashley Magoon (see all)