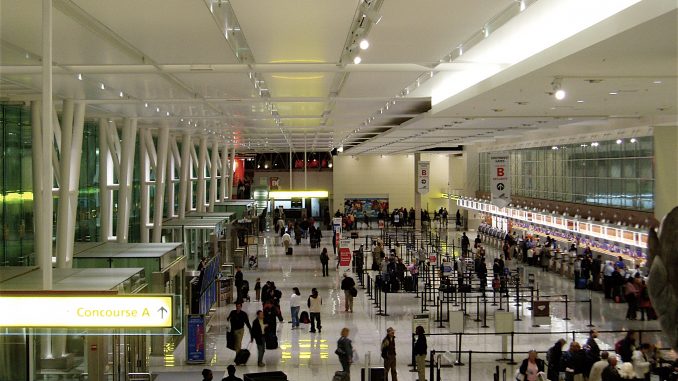 In the next few weeks, passengers flying out of Baltimore/Washington International (BWI) and San Diego International will now have the option to have food, drinks, and products sold in the airport delivered straight to their gate.
Two developers, Airport Sherpa (at BWI) and At Your Gate (at San Diego) have created apps to solve the "gate hugging" problem that so many American travelers are guilty of. Research has shown that most travelers, once through security, will proceed straight to their gate and only spend time around that area.
This causes a problem for many airports as travelers are reluctant to wander too far from their gate, causing them to miss out on updated dining and shopping options the airports are attempting to offer.
While the apps are new, the idea of bringing goods directly to passengers has been tried before at different airports. Leading airport service provider, HMSHost, tried to bring mobile carts stocked with snacks, drinks, and magazines to gate areas in Honolulu, Maui, Chicago-O'Hare and Memphis. At JetBlue's JFK Terminal 5, iPads have been introduced in the seating area so passengers can order food and drinks directly from wherever they are sitting.
However, Airport Sherpa is hoping to make it easier on passengers by allowing them to just order products directly from their phone instead of trying to hail down a cart or finding an iPad.
CEO of Airport Sherpa, Patrick DellaValle, is hoping that the service "will enhance the passenger experience and give travelers access to hundreds of stores across terminals."
Airport Sherpa has partnered with Airmall, a retail and food concession operator, to introduce the gate delivery service this week.
"For passengers, it will mean even more choices, more convenience and more ways to experience the numerous local, regional and national offerings here at BWI Marshall. Now someone traveling out of the D Concourse at BWI can order sushi from the A Concourse, and someone on the B Concourse can get a burger from the D Concourse, whereas before they did not have access between those concourses to go get it themselves," Brett Kelly, Vice President of Airmall Maryland told USA Today.
In San Diego, At Your Gate has partnered with Grab, a mobile-ordering app that lets travelers pre-order and pick up their food, to offer the delivery service.
"Gate delivery is a logical extension of the on-the-demand economy that up to now just hasn't existed in airports. Traveling is really hard. I want this to be the bright spot in the day," said David Henninger, At Your Gate President/COO/CMO.
Both services have promised to keep delivery time to a minimum and have implemented controls to prevent a customer from placing an order that is too close to a boarding time.
The Airport Sherpa app is free to download, but the delivery fee will range from $3.99 to $7.99, depending on how far the delivery is in the airport. At Your Gate, will have a flat delivery fee of $6.99.
This story was updated on July 16 at 10:45 p.m. ET to properly credit the quote said by Mr. Kelly. He was speaking to USA Today at the time. 
An "AvGeek" for most of his life, Akhil has always been drawn to aviation. If there is an opportunity to read about an airline, fly on a new airplane, or talk to anyone about aviation, he is on it. Akhil has been on over 20 different kinds of aircraft, his favorite being the MD-80. Additionally, he has visited 5 continents and plans to knock out the remaining two (Africa and Antarctica) soon. Based in Dallas, Akhil graduated from Texas A&M University with a degree in Management Information Systems and currently works in consulting. His dream is to become an airline executive.
Latest posts by Akhil Dewan (see all)