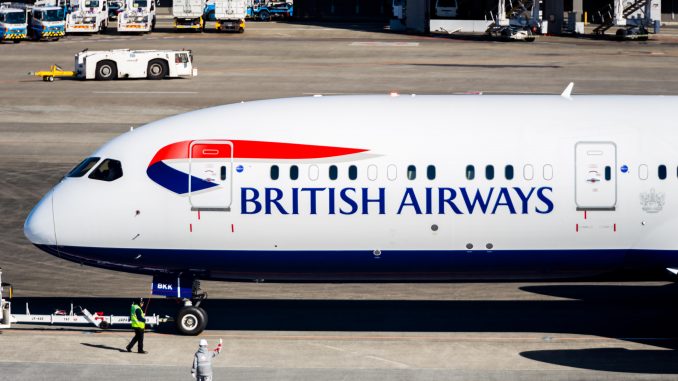 In a quest to find the best pilot social media personalities, there is certainly one name that is hard to overlook. Suneil Banerjee, known on Instagram as @the787dreamlife, is a first officer for British Airways on board their Boeing 787 Dreamliner aircraft. Suneil also maintains his own travel blog, and recently has partnered with luxury travel magazine LUXOS to contribute some articles for them.
Commercial airline pilots like Suneil travel the world and often find themselves waking up in their hotel rooms forgetting which country they're in that day, but they never forget the excitement travelling brings. We recently had the opportunity to have an interview with Suneil to ask him some questions about his career, hobbies outside of work and even some digging into how he is a loyal Pittsburgh Penguins fan.
Q: Could you give us some background on yourself?
A: I'm half English, half Indian, born and brought up in the U.K. I studied Biology at Durham University before starting my flying training when I was 22.
Q: Can you describe your training pipeline for us, from having no experience to becoming a commercial pilot?
A: My first ever flying lesson was on my 14th birthday, but due to a lack of time at the weekends (I used to play a lot of sports!) I never got very far to my PPL [private pilot's license]. After university I got onto an integrated training course, spending the best part of a year living abroad doing all the basic flying whilst studying for my ATPL exams. On my return to the UK I completed my CPL/IR and was then fortunate enough to get a job with Monarch Airlines on the A320. Right place, right time!
Q: What made you want to become a commercial pilot, specifically one for British Airways?
A: I've always admired the global reach of British Airways. As much as I love flying, travel has always been my number one passion, so the opportunity to explore far flung places whilst on work time is a real perk. With the improved performance of the 787, routes which may not have been viable previously are now starting to appear on the network – New Orleans and Santiago being two of my favorites.
Q: Out of all the aircraft you have piloted, is the 787 your favorite? If not, which one is and why? 
The Dreamliner is a great aircraft. I love how fresh you feel after a flight, even if you have just spent the last 14 hours airborne. It's also incredibly quiet. That said, I really do miss the tray table from the A320!
Q: Out of all the destinations you have flown to in your career, which one has been the most memorable for you?
A: It has to be either Gibraltar or Innsbruck, so of the two I'd say Innsbruck. Descending into the valley, steep mountains either side of you, breaking off to fly downwind towards the church and then tight round again to land always made for an exciting day out. A great view out of any window on the aircraft!
Q: Which destination are you most likely to visit on your time off?
A: I can't get enough of Japan. Every year my brother and I head there for 10 days of incredible skiing in the north island of Hokkaido. The food, the people, the snow – the whole experience is just fantastic. I really want to visit in the spring and head south to explore and see the famous cherry blossoms.
Q: Can you describe a challenging moment in your career and how you pushed yourself past it?
A: I was in the hold pool for British Airways pilots back in 2008 when the recession kicked in. After a 6 month extension, the hold pool was disbanded and I was told to apply again once recruitment started again. Disappointing as this was, I kept my head down, kept my enthusiasm and when recruitment opened up again put 100% into that process again.
Q: What advice do you have for anyone out there who is interested in a career as a pilot?
A: Work hard and don't give up. It's not easy to get that first break! I was told when I was young that it's very much 'right time, right place.' Keep plugging away and it will happen. Also, be aware that it's not just a job, it's a lifestyle. Be aware of how it will affect your personal and family life.
Q: What caused you to start your own travel blog?
A: The aspect of the job I enjoy most is the travel. We are in an enviable position to travel regularly to some incredible destinations so who better to share ideas of things to do and places to see?  This has now developed into a partnership with luxury travel magazine, LUXOS, where I'm writing a couple of articles a month for them.
Q: Can you give our readers a few travel tips that you have come to learn over your travels?
A: Pack light, get to the gate early, smile at people and eat local!
Q: Most important of all, how come you're a Penguins fan and did you get a chance to watch any of the Stanley Cup games this year?
A: I started watching ice hockey with a friend in my local town in England so bought a game for the computer which I'd play with my brother. The Pens were the best team on there at the time so I used to play as them and it went from there really! Watching NHL games was limited to when we'd go on family ski trips to the USA or Canada so a couple of years ago I decided to make a trip to Pittsburgh to watch a couple of games. I even managed to do a work trip to San Jose last year and watch the Pens play the Sharks there. Really hoping Pittsburgh becomes a new route for us!
AirlineGeeks.com began in February, 2013 as a one-man (er… teenager, rather) show. Since then, we've grown to have 20 active team members, and yes, we're still growing. Some of us are looking to work in the aviation industry as professionals when we grow older. Some of us are still trying to decide what we want to do. That's okay though, because we're all here for the same reason: we love the airlines. We're the youngest team of airline industry journalists out there.
Latest posts by AirlineGeeks.com Staff (see all)