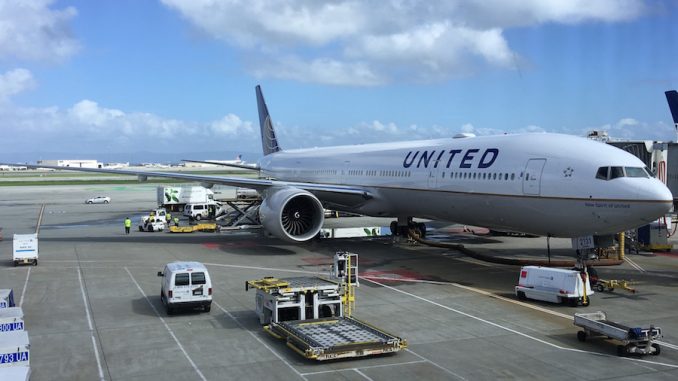 United Airlines experienced a strong second quarter of 2017, reporting a net income, excluding special charges, of $846 million against revenues of $10 billion. Though United posted excellent financials, their shares on the New York Stock Exchange still fell 5.9% due to sluggish 3rd quarter forecasts.
United's $10 billion revenue in the second quarter was an increase of $604 million or 6.4 percent year-over-year. These are the highest quarterly earnings United has reported since the fourth quarter of 2013. Earnings per share came in at $2.75. Both metrics beat analyst expectations, which were an EPS of $2.67 on revenues of $9.95 billion.
Passenger revenue per available seat mile (PRASM) was up 2.1 percent year over year, compared to Delta's 2.5 percent increase in the same period of time. 

Demand Growing in Most Markets
Demand was solid in most markets, except the Pacific which experienced softer than forecasted demand. Domestic revenues were up 2.4 percent year-over-year. Atlantic performance was up 3.3 percent from what was expected, boosted by ticket purchases originating in the US and healthy premium cabin demand.
Latin America PRASM grew 7.8 percent year-over-year driven mainly by growing leisure beach markets in Brazil, Mexico, and the Caribbean.
Meanwhile on the cargo side, revenue jumped 22.1 percent to $254 million, which United President Scott Kirby attributes to United's increased on-time performance and reliability.
The Pacific market was considerably weaker than forecasted and declined 5.5% this year, leading to the second quarter in a row that there has been a decline. This is mainly due to lower demand in China and Hong Kong.
Strong Finances Leading to Higher Capital Expenditures
Cash flow within the company was regarded as being at a healthy level. This along with strong top and bottom lines is spurring an increase in capital expenditures (CapEx). CapEx is projected to be approximately $400 million higher than the prior estimates coming in between $4.6 billion and $4.8 billion.
United currently has a strong enough balance sheet to invest in CapEx projects of this magnitude. The airline will invest between $200 million and $300 million more than forecasted on IT, ground service equipment, facilities and other key areas of the business. This makes technology projects the biggest area of non-aircraft CapEx.
The airline's focus on IT is most notable since in the past few years we've seen major IT outages at airlines such as British Airways, Southwest, and Delta. These IT failures weaken customer confidence in the airline and ultimately hurts the airline financially. Delta's IT meltdown a few months ago cost the airline upwards of $125 million.
On the aircraft side of CapEx, $150 million was allocated for the purchase of 21 narrowbody aircraft ranging from the Boeing 737, Airbus A320, and Boeing 757 off lease. These aircraft have an average age of 21 years, but United expects to be able to operate the aircraft reliably for years to come.
All of these improvements will allow United to stay with the curve of technology and not fall behind to competitors.
Competition in Denver
During the analyst question session, an analyst asked if the airline is concerned about the newly announced growth by Frontier at United's most profitable hub Denver. Scott Kirby's reply was nothing short of snarky and dismissive.
He quite succinctly explained that the ultra low-cost carrier business model relies on point to point operations and not connecting operations. The last time Frontier strayed from the point to point strategy they went bankrupt. Kirby likens this similar attempt again as a non-issue for United for the very same reason.
Running a connecting business model is infinitely more complex than a point to point model, and Kirby doesn't seem to believe that Frontier can pull it off. Thus effectively squashing any notion that United is in any way intimidated by the massive Frontier expansion.
Investor Response
Though United posted strong second quarter financials their stock took a bit of a tumble, with the main concern being an upcoming sluggish third quarter. Consolidated PRASM is expected to be flat, while the Atlantic market will remain the same due to pattern shifts to European ticket purchases and depressed premium cabin demand as Europe begins their vacation season in July.
Most markets are expected to remain the same, except for the Pacific in which there continues to be a slowdown in demand. United expects to counter this by reducing capacity growth by the fourth quarter. These actions along with the retirement of the 747 fleet will help future PRASM in the market. This news, along with higher cost per available seat mile (CASM), is being met with disappointment by the market.
Most investor concerns are relatively well founded except a few oddball concerns as to why certain programs, which have yet to be implemented, aren't driving revenue. For example, an analyst raised the question if the new idea of taking volunteers for oversold flights days in advance is generating any revenue. It's a bit hard to tell when the program is still being tested with only 50 people.

Hemal took his first flight at four years old and has been an avgeek since then. When he isn't working as an analyst he's frequently found outside watching planes fly overhead or flying in them. His favorite plane is the 747-8i which Lufthansa thankfully flies to EWR allowing for some great spotting. He firmly believes that the best way to fly between JFK and BOS is via DFW and is always willing to go for that extra elite qualifying mile.

Latest posts by Hemal Gosai (see all)