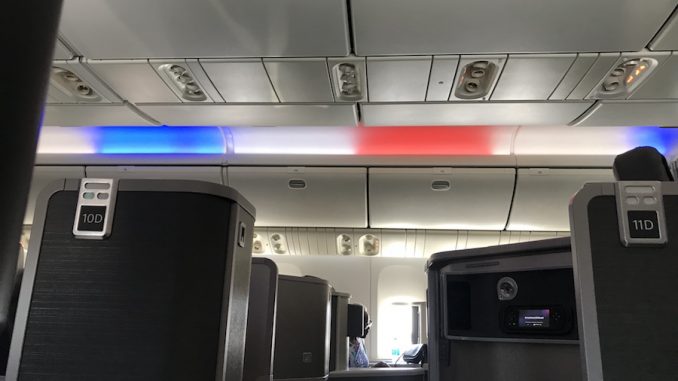 Gone are the days of three-class Boeing 777-200 aircraft at American Airlines. On Monday, the Fort Worth-based carrier said that there are no longer any 777-200s with a three-class configuration in operation.
The carrier has been working to modernize its older fleet of 47 777-200s to align with new aircraft types, including the Boeing 777-300ER and 787 Dreamliner. Completing the 777-200 fleet is another step as the airline aims to create a more consistent product on widebody aircraft.
These cabin retrofits on American's 777-200s hit a snag in 2015 when the carrier switched from seat manufacturer Zodiac to B/E Aerospace after Zodiac couldn't deliver the retrofits on time. The B/E Aerospace business class seats are also used on the carrier's 787-9 aircraft.
13 of American's  777-200 aircraft feature 45 business class seats with 215 in main cabin, and most of which have Zodiac seating. Along with the batch of 777-200s, the airline uses Zodiac business class seats on the Boeing 787-8 Dreamliner.
29 of the carrier's 777-200 aircraft see 37 business class seats and 252 in the main cabin. While five of these configurations feature Zodiac seating, the rest have been retrofitted with B/E Aerospace business class.
Four 777-200s, N794AN (7BC), N758AN (7BT), N780AN (7AL), and N790AN (7AX), are in Hong Kong receiving retrofits and will see B/E Aerospace seating. N794AN ferried from Tokyo to Hong Kong on July 23, making it the last 777-200 to carry the old three-class configuration.
Currently, American has retrofitted one Boeing 777-200 with a premium economy cabin: N781AN (7AM). This aircraft is configured with 37 Zodiac business class seats, 16 premium economy seats, and 220 main cabin seats. The airline is looking to complete 777-200 premium economy retrofits by the first quarter of 2018.
The new cabin retrofits for American's 777-200 fleet are another major step as the carrier has aggressively pursued renewing some of its aging fleet types.
AirlineGeeks.com began in February, 2013 as a one-man (er… teenager, rather) show. Since then, we've grown to have 20 active team members, and yes, we're still growing. Some of us are looking to work in the aviation industry as professionals when we grow older. Some of us are still trying to decide what we want to do. That's okay though, because we're all here for the same reason: we love the airlines. We're the youngest team of airline industry journalists out there.
Latest posts by AirlineGeeks.com Staff (see all)