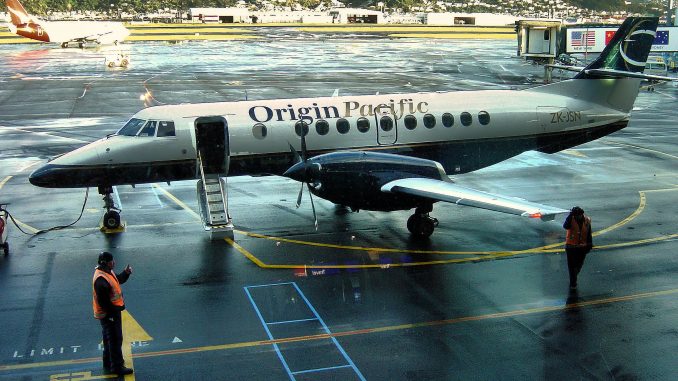 Established in 1996, Origin Pacific Airways officially commenced operations from its hub in Nelson, New Zealand in April 1997. The airline was founded on experience by Robert Inglis and Nicki Smith, who had formerly founded Air Nelson in 1979 before it was sold to Air New Zealand.
Over the course of the airline's relatively brief history, it had operated an extensive domestic route network throughout New Zealand, including Auckland, Dunedin, Queenstown, Taupo, Wellington, Taurango, New Plymouth, Palmerston North, Invercargill, Napier, Christchurch, Blenheim, Wanganui, Rotorua, and its hub in Nelson.
One of the most significant aspects of Origin Pacific's operations was its critical code share with Jetconnect, which was a subsidiary of Qantas. The three year venture enabled the carrier to access Qantas' international route network.
The airline operated ATR 72s and DHC 8 aircraft on behalf of Jetconnect, which served as a beneficial partnership. Immediately after losing the code share in 2004, Origin Pacific lost about 60% of its business, and also faced a new challenge of managing competition against both Air New Zealand and Jetconnect.
In addition to the aircraft Origin Pacific used during its code share with Jetconnect, the airline also operated the BAe Jetstream 31, 32, and 41 series, the Cessna 421, and the Fairchild Metroliner III and 23 edition aircraft.
The airline reached its ends in 2006 when it could no longer pay off standing debts to several airports. Origin Pacific ceased passenger operations in August 2006, with freight operations coming to a close the following month.
Ashley is currently a senior in high school and plans on pursuing a career in aviation or journalism. Her favorite airplanes include the Boeing 777, 737MAX, and Airbus A350. She enjoys taking flights on various airlines to different airports and planespotting at her local airports.
Latest posts by Ashley Magoon (see all)