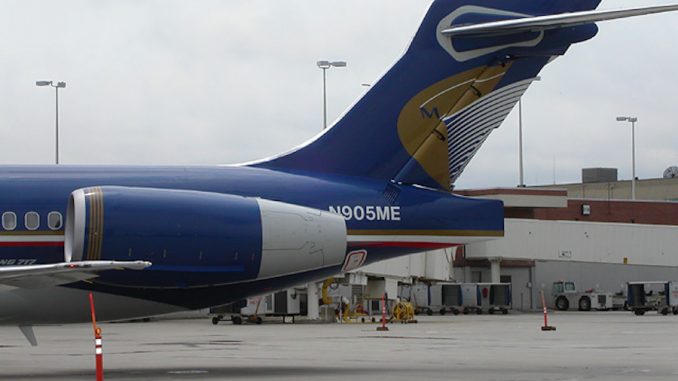 Two businessmen from Wisconsin are looking for investors to help restore the defunct Midwest Express as an operating airline once again.
Curt Drumm and Greg Aretakis have announced their intentions to rebuild the airline after it ceased operations in 2009. Both Drumm and Aretakis have airline experience, with Drumm working as an aviation consultant and Aretakis formerly serving as an executive for Frontier Airlines and Midwest Express.
A History of Cookies and Service
Founded in 1984, the beloved Milwaukee-based airline was known for its all-business class seating, freshly baked cookies, and complimentary meals that were plated on china. Throughout its history, the airline operated aircraft such as the McDonnell Douglas MD-80, Boeing 717 and the Douglas DC-9. The airline also owned a regional subsidiary, Midwest Connect, operated by Skyway Airlines.
At its height, the airline controlled 55 percent of the market share at Milwaukee's General Mitchell Airport, serving as a popular option for local business travelers. Additionally, the airline had an expansive route network, offering service to cities such as Las Vegas, Dallas/Fort Worth, Fort Lauderdale, Florida, Newark, New Jersey, Washington, D.C,. and San Francisco. In addition to Milwaukee, the airline also operated hubs in Omaha, Nebraska and Kansas City.
Changing Circumstances
However, after September 11, 2001, the airline suffered major financial losses and was forced to make major cutbacks, including reducing their hub at Omaha to a focus city, re-configuring some business class class seating with economy seating and replacing its complimentary meals with a buy-on-board service.
In 2002, the airline made further changes by altering their name from "Midwest Express" to just "Midwest", citing that the "Express" would give them the connotation of being a regional airline. Midwest also opted to replace its aging DC-9s and MD-80s with the newer Boeing 717s.
In 2006, Atlanta-based AirTran Airways decided to make a bid for Midwest, but eventually lost. Shortly after that, Midwest was purchased by TPG Capital, a private equity group, and Northwest Airlines.
In 2009, Midwest was then acquired as a wholly owned subsidiary by Republic Airways, until Republic and Denver-based Frontier Airlines merged in 2011. By 2013, aircraft operating with the Midwest livery had been repainted, and Midwest's International Air Transport Association (IATA) code had been reassigned to Republic.
However, one item that stayed the same for most of the airline's turbulent history was the freshly-baked cookies. With an almost cult-like following, the cookies were baked on board and also sold at various professional sporting events and shops in Milwaukee. The cookies even outlived the acquisition by Frontier for a short time until they were replaced with a buy-on-board program.
Many people have rejoiced at the thought of the airline coming back into business, and with a brand that's already established in Wisconsin, many claim the resurrected airline will just have to focus on building the capital and living up to the brand name.
"From beginning to end, that brand had a very loyal following," said Steve Laughlin, Executive Chairman of a Milwaukee-based ad-agency in an interview with USA Today. "If the Midwest Express brand were to come back to the market delivering against the same expectations that were created by the old brand, I think it would be welcomed with open arms. People loved that airline."
An Uncertain Future
But with unpredictable factors such as competition, fuel prices and government regulation, the airline will need a lot of help from investors, with an estimated $5 million need for an airline operating certificate (AOC) and $100 million to have the airline fully operational.
Additionally, some people have expressed skepticism on whether the same business model will work today. Skeptics claim that passengers have had opportunities to pay for extra services but continuously refuse to do so, opting instead for the lowest fares and service options.
This means that Midwest might have to be ready with a minimum cost option if it wants to successfully compete with the likes of not just Spirit, but legacy carriers such as American, Delta and United that have introduced their own unique versions of Basic Economy.
An "AvGeek" for most of his life, Akhil has always been drawn to aviation. If there is an opportunity to read about an airline, fly on a new airplane, or talk to anyone about aviation, he is on it. Akhil has been on over 20 different kinds of aircraft, his favorite being the MD-80. Additionally, he has visited 5 continents and plans to knock out the remaining two (Africa and Antarctica) soon. Based in Dallas, Akhil graduated from Texas A&M University with a degree in Management Information Systems and currently works in consulting. His dream is to become an airline executive.
Latest posts by Akhil Dewan (see all)