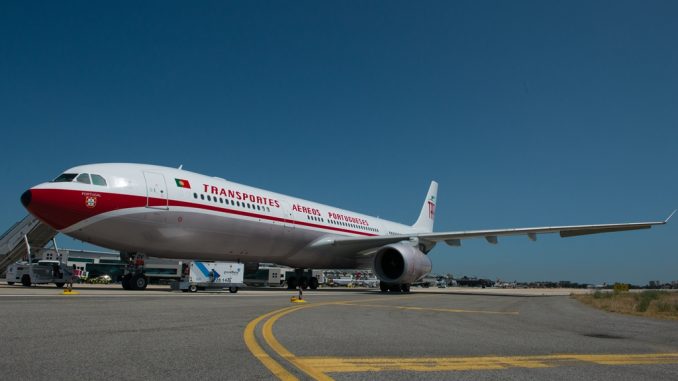 TAP debuted their first retro aircraft livery in Miami on August 11, 2017 and graciously invited me to take part in the festivities.
TAP Fleet Breakdown
This retro themed TAP aircraft is part of a new branding effort as the airline is growing at a rapid pace. In July, the airline flew 1.4 million people worldwide, up 21 percent and has doubled traffic from the U.S. year over year.
TAP has 53 new aircraft on order for delivery starting in 2018, including 14 Airbus A330-900neos and 39 Airbus A320neos.
The airline's current longhaul fleet is comprised of various aircraft from the A330 family, the majority of which have older angle flat business class seats. Slightly newer refurbished aircraft have industry standard lie-flat seats.
However, these aircraft with lie-flat seats are only available on the Boston to Lisbon and New York/Newark to Lisbon routes.
Flight to Miami
The aircraft that was flown on this Lisbon to Miami route was an A330 that originally belonged to Singapore Airlines and was still equipped with the original angle flat seats. It was repainted in the livery first displayed on their Lockheed Super Constellation aircraft in July of 1955 to go along with the retro theme.
However, the retro theme did not stop there. Much to my surprise the entire flight was like taking a trip back through the 1970s. The interior of the cabin, the headrests, meals, and in-flight-entertainment were all retro. The cabin crew even were wearing era uniforms
The day started at the newly opened TAP Premium lounge. This is a relatively new and modern lounge that features all the amenities you would expect from a business class lounge. There were both hot and cold buffet items along with a full bar.
While the lounge is nice don't plan on spending too much time there as it can take over an hour and a half to clear exit passport control. This is a huge problem plaguing the airport and there doesn't seem to be much happening to fix it.
Our flight to Miami actually delayed approximately an hour because about 80 passengers including myself were stuck in the horrendous passport control line. It got so bad that airport workers actually called out for all passengers traveling to Miami to congregate in a separate area where we could be expedited through.
A recommendation would be to at least create a priority lane for business class passengers to use, since waiting in line for over 90 minutes really ruins the premium experience.
Boarding was at a remote gate to showcase the retro livery which looked gorgeous
Upon boarding we were warmly welcomed by enthusiastic flight attendants and waiting at our seats were retro amenity kits containing pajamas and other standard amenity kit items.
Service began shortly after take-off with a tasty plate of marinated salmon and roasted almonds
This was followed by a prawn salad in avocado and cocktail sauce accompanied by a cream of pear and cauliflower soup.
For the main course there was a choice between cod and Portugeuese style steak. I went with the steak, though I did find the steak a bit overcooked but that is almost expected with most inflight meals.
After the meal I was stuffed and skipped dessert and went for some coffee instead. One thing I can say about the coffee on TAP is that it was delicious. By far one of the best cups of coffee I've ever had on an airplane.
Following as much rest as I possibly could get on an angle flat seat it was time for the pre-arrival meal which I skipped, I was still stuffed from the main meal. Based from what I saw it was a selection of cheeses and cold cuts with the standard sides.
As an added bonus for the special flight, Michelin Star chef Rui Silvestre was onboard. He was one of the chefs that designed the menu for the flight. He took part in meal service and distributed chocolates from his restaurant and sea salt from his local region of Portugal.
Soon after we were landing in Miami where to my surprise we were greeted with a water cannon salute.
Conclusion
All in all, it was a pretty fun experience aside from passport control. TAP is really trying to do something fun here with the retro theme. While the seats definitely weren't the best, the service and catering were fantastic. I walked off that flight stuffed and happy.

Hemal took his first flight at four years old and has been an avgeek since then. When he isn't working as an analyst he's frequently found outside watching planes fly overhead or flying in them. His favorite plane is the 747-8i which Lufthansa thankfully flies to EWR allowing for some great spotting. He firmly believes that the best way to fly between JFK and BOS is via DFW and is always willing to go for that extra elite qualifying mile.

Latest posts by Hemal Gosai (see all)