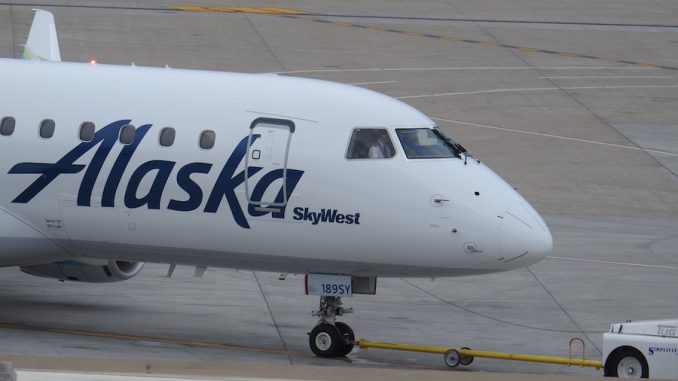 On Monday, Seattle-based Alaska Airlines commenced daily nonstop service from San Jose, Calif. to Austin and Tucson. With the addition of these flights Alaska will offer nonstop service to 18 destinations in the form of 31 daily departures from San Jose International Airport, more destinations than any other airline serving the airport.
All three new routes will be serviced by Embraer's E175 regional jet aircraft. These aircraft feature 64 coach seats in a 2×2 arrangement and 12 First class seats in a 2×1 arrangement.
The San Jose to Austin flight will depart San Jose at 8:45 a.m. and will arrive at 2:05 p.m. with a flight time of three hours and 20 minutes. The return will depart at 3:00 p.m. and arrive at 4:53 p.m. with a flight time of three hours and 53 minutes.
San Jose to Tuscon will depart at 5:33 p.m. and arrive at 7:45 p.m. with a flight time of two hours and 12 minutes. The return will depart at 7 a.m. and arrive at 9:27 a.m. with a flight time of two hours and 27 minutes.
The addition of these routes shows Alaska's dedication to meeting the needs of Silicon Valley travelers, with the San Jose to Austin route connecting two global tech hubs. Earlier in the year the carrier announced several new destinations from the Bay Area.
Alaska will continue to grow flights from the San Jose focus city by launching four times daily service to Los Angeles on September 20. This market is currently dominated by Delta Air Lines, American Airlines, and Southwest.
Flights from the Bay Area to Los Angeles have historically been very competitive and the introduction of these flights affirm Alaska's position as a major player on the West Coast.
By the end of 2017, Alaska and their acquired airline Virgin America plan on offering 131 daily nonstop flights to 42 destinations from the three major Bay Area airports.

Hemal took his first flight at four years old and has been an avgeek since then. When he isn't working as an analyst he's frequently found outside watching planes fly overhead or flying in them. His favorite plane is the 747-8i which Lufthansa thankfully flies to EWR allowing for some great spotting. He firmly believes that the best way to fly between JFK and BOS is via DFW and is always willing to go for that extra elite qualifying mile.

Latest posts by Hemal Gosai (see all)