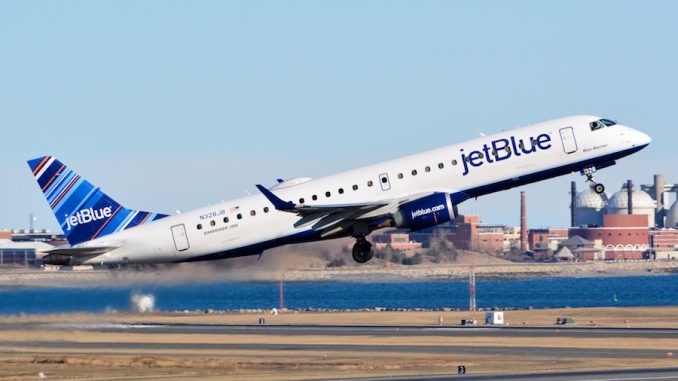 New York-based jetBlue is seeking new applicants for its Gateway Select program, an initiative that trains candidates with no flying experience to become first officers for the airline.
With the initial six members of the program completing their initial flight training for their private pilot license, jetBlue is opening a new application until September 30 for an additional 24 pilots.
While the program only trains a fraction of the total pilots the airline hires each year, it provides the training and and a job opportunity for people who may have never sat in a cockpit before. Candidates in the program have made the switch to aviation from jobs including a heavy-machine operator, a supermarket clerk and an accountant.
Modeled after training programs in Europe and Asia, the Gateway Select program begins with online tests for cognitive, spacial-orientation, and math and science skills. After completing the tests, qualified candidates are sent to on-site interviews to determine their fit within the company.
After successful rounds of interviews, candidates are then sent to CAE's Oxford Academy in Mesa, Arizona for 30 weeks to earn their initial licenses. Trainees are then sent to jetBlue University in Orlando, Florida to begin training to operate either Embraer 190 or Airbus 320 aircraft.
Trainees are then sent back to Phoenix for an additional 12 weeks of training before becoming a flight instructor. As a flight instructor, the trainees will earn a salary and gain the minimum 1,500 hours to earn their Airline Transport Pilot (ATP) certificate.
However, there is one aspect of the program that many may consider a drawback: the four year program is not fully covered by jetBlue, meaning that trainees will have to be willing to spend $124,000 during the course of their training.
Still, JetBlue and many pilot hopefuls remain optimistic about the opportunity.
"I think we've opened it up to a candidate pool that might not otherwise have thought it was an opportunity for them," said Warren Christie, JetBlue's Senior Vice President of Safety, Security and Air Operations. "I think we're excited that it's as successful as we hoped it would be."
"We are excited about opening it up and offering future aviation careers to other aspiring pilots," Christie continued. "We have validated that the selection process and the training that we've structured works."
In July, Boeing projected that airlines will need 637,000 new pilots over the next 20 years for the anticipated growth in passengers, with around 117,000 needed in North America.
After the next round of 24 pilots, jetBlue could be looking for as many as 48 candidates in 2018.
"If you're successful in this program, and successful going through it, it concludes with a first-officer position at JetBlue," Christie said.
An "AvGeek" for most of his life, Akhil has always been drawn to aviation. If there is an opportunity to read about an airline, fly on a new airplane, or talk to anyone about aviation, he is on it. Akhil has been on over 20 different kinds of aircraft, his favorite being the MD-80. Additionally, he has visited 5 continents and plans to knock out the remaining two (Africa and Antarctica) soon. Based in Dallas, Akhil graduated from Texas A&M University with a degree in Management Information Systems and currently works in consulting. His dream is to become an airline executive.
Latest posts by Akhil Dewan (see all)