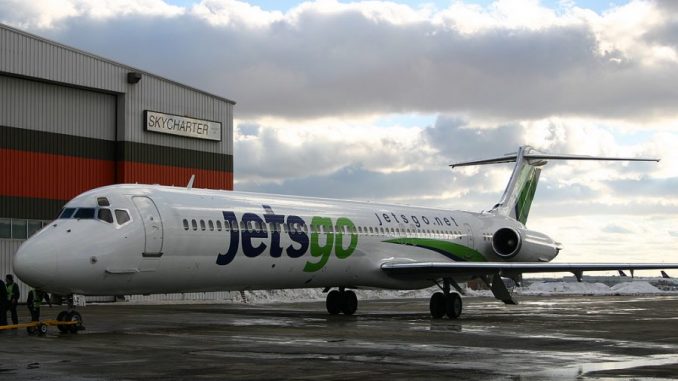 With the Canadian market reeling from the loss of Canada 3000 Airlines and Canadian Airlines in 2001, entrepreneur Michel Leblanc wanted to start a new low-cost carrier to compete with Air Canada and WestJet. Leblanc, with plenty of experience in the industry as a founder and employee at Royal Aviation, Canada 3000, and Intair, looked ready to take on the Canadian airline industry with his new airline, JetsGo.
JetsGo started service in June 2002 with two McDonnell-Douglas MD-80s operating flights between Montreal and Toronto and to eastern Canadian destinations. The carrier added 14 more McDonnell-Douglas MD-80s in the next two years as the airline expanded to include Western Canada, Florida and New York.
Unfortunately, JetsGo was struggling from the start. The carrier lost money its first two years of operations as the airline tried to find its footing. But instead of downsizing, JetsGo continued to expand in hopes of buying their way to success.
The airline would add Fokker 100 aircraft to its fleetwith over 18 added between 2004 and 2005. JetsGo  used the 100s to replace the MD-80s on regional routes while the carrier moved the MD-80s to longer routes.
While the airline was making a reputation of being a low-cost carrier, the airline also grew a reputation for being unsafe. JetsGo had suffered numerous incidents in the 2003-2004 period to the point where the carrier was being reviewed by NavCanada for safety concerns.
The carrier then decided to expand westward with the launch of a new hub in Regina. The carrier hoped that the hub would compete with WestJet's Calgary hub and provide alternative routes for passengers in the Midwestern Canadian region.
While the airline had planned to expand, Leblanc's vision for a low-cost carrier came to an abrupt end. The airline had lost hundred of millions of dollars over its three years of operations and owed millions to NavCanada. The debts to NavCanada and the overall sketchy history of the airline forced NavCanada to come looking for their money and suspend the carrier's operating certificate.
Upon hearing this, JetsGo cancelled all future flights and grounded their fleet on March 14, 2005 without any prior notification to travelers or crew.
Soon after its collapse, JetsGo lost its fleet of MD-80s and Fokker 100s to the leasing groups who they belonged to, as the carrier slogged through bankruptcy court. JetsGo never flew again.
The airline was also the end of the line for Michel Leblanc's aviation endeavors. Leblanc's repeated failures in the industry with his previous employers struck a bad note with many investors as they questioned his ability to lead an airline. Furthermore, the bankruptcy proceedings didn't help his case as the company's idea of expanding themselves out of debt with Fokker 100s and a hub in Regina was heavily criticized.
Although Ian McMurtry was never originally an avgeek, he did enjoy watching US Airways aircraft across western Pennsylvania in the early 2000s. He lived along the Pennsylvania Railroad and took a liking to trains but a change of scenery in the mid-2000s saw him shift more of an interest into aviation. He would eventually express this passion by taking flying lessons in mid-Missouri and joining AirlineGeeks in 2013. Now living in Wichita, Kansas, Ian is in college majoring in aerospace engineering and minoring in business administration at Wichita State University.
Latest posts by Ian McMurtry (see all)