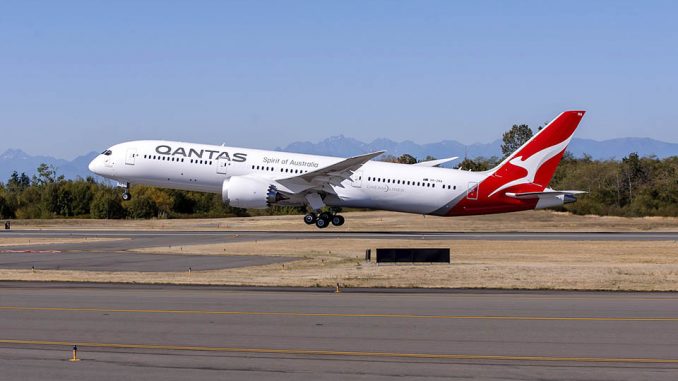 On October 16, Qantas celebrated the delivery of its first Boeing 787-9 Dreamliner aircraft at the Boeing factory in Seattle with a special ceremony.
"Taking delivery of a new type of aircraft is always an important milestone for an airline and the 787 is a game-changer. From the distance it's able to fly, to the attention to detail we've put into the cabin design, it will reshape what people come to expect from international travel," stated Qantas CEO Alan Joyce.
The new aircraft type will mark a significant milestone for the airline and Australian aviation as a whole.
Joyce stated "The Dreamliner makes routes like Perth to London possible, which will be the first direct air link Australia has ever had with Europe. And it means other potential routes are now on the drawing board as well."
In addition to the Perth to London route, which will begin in March 2018, the 787 is set to fly from Melbourne to Los Angeles beginning in December 2017.
The first 787 has been named "Great Southern Land" and is expected to arrive in Sydney on the morning of October 20. It is the first of eight Dreamliners expected to be delivered by the end of 2018. The new aircraft will also allow for the retirement of five Boeing 747s from Qantas' fleet.
"There are lots of elements that combine to make the Qantas Dreamliner special. The seats, the lighting, the entertainment, personal storage, right through to the special crockery that weighs ten per cent less," continued Joyce.
The aircraft features next generation seating in Economy, Premium Economy, and Business class, according to Qantas, in addition to a lower passenger count than many of the company's competitors, and increased space. Other features in the cabin include larger windows, improved air quality, and ride dampening technology, which is intended to reduce turbulence.
The airline is continuing to innovate the inflight experience aboard their aircraft. "We're working with sleep specialists at the University of Sydney to see how adjustments to our own inflight service can improve wellbeing and help people adjust to new time zones," Joyce explained.
Ashley is currently a senior in high school and plans on pursuing a career in aviation or journalism. Her favorite airplanes include the Boeing 777, 737MAX, and Airbus A350. She enjoys taking flights on various airlines to different airports and planespotting at her local airports.
Latest posts by Ashley Magoon (see all)