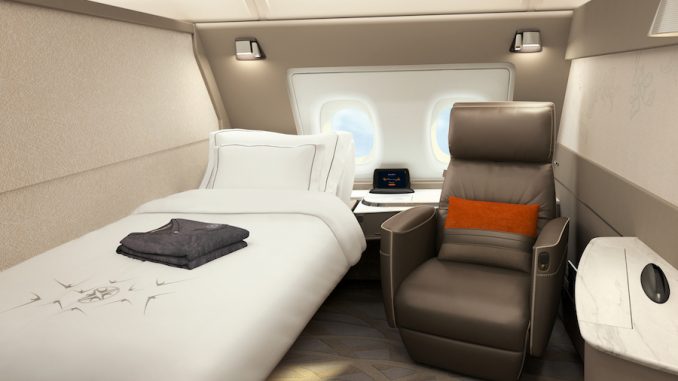 On Thursday, Singapore Airlines unveiled the new cabins for its Airbus A380 aircraft. Included in the changes will be new seats in first, business, premium economy and economy classes.
These new seats will allow the airline to retain its competitive edge in the Asian market, allowing them, in theory, to increase passenger yields and command a greater market share of premium travelers in an increasingly competitive environment.
New First Class Suites
The biggest and most innovative changes are to the first class cabin. Originally, the airline flew its A380s with 12 first class suites, however, there will only be six suites after the refresh. These six suites feature fully flat beds and separate leather recliners allowing, passengers to recline their seat without it turning into a bed.
The suites also feature 32-inch HD screens for in-flight entertainment. The screens are motorized so that they can be viewed from different viewing angles from either the chair or bed. Furthermore, the 70 percent increase in suite sizes allows the airline to pack in more storage options. First class passengers can now fit an entire standard-size carry-on within the closet that is provided in the suite.
For several years, Etihad Airways was the airline offering the most space in first class with its First Apartment product, also found on the A380. Singapore's product is similar in concept and could potentially take the spot as the world's finest commercial first class product.
Business and Economy Class
Business class is also receiving a renovation. While the new seats will continue to be 25 inches wide in a 1-2-1 configuration, these seats will feature a new design containing carbon fiber, allowing for more available storage space for passengers. Just as with the QSuites on Qatar Airways, the new aisle seats will convert into a double bed.
Premium economy and economy are receiving mainly cosmetic upgrades, with new fabric seat cover designs and more. The upgrades serve to complement Singapore's industry-leading economy and premium economy product.
These new products will be available on Dec. 18 when Singapore's first new A380 will fly from Singapore to Sydney and back as SQ 221 and 232. Singapore's five new A380s will come already fitted with the new product and the remaining 14 A380s in their fleet will have the new seats retrofitted by 2020.
Increased Capacity on the A380
The key takeaway with this announcement is not the new seats, it's how many of the new seats there are. First class seats are being cut in half due to low demand for the ultra-premium product. This will better match supply and demand, as the airline is undergoing a three-year transformation plan.
However, seating in other cabins is also increasing. Economy and premium economy revenues are expected to increase due to higher seating density, which will contribute to the overall profitability of the A380. This is expected to help passenger yields for the airline, currently at a seven-year low.
While the new first class product has taken the show, it is the other cabins that are really going help Singapore Airlines. Singapore is following an industry-wide focus on business class, as many carriers are removing first class seats to make room for business class seats. Singapore is increasing its overall business class seat count from 60 to 78.
Singapore's Future Growth Plan
There is an argument to be made that this is only adding excess capacity to markets that already see an excess of empty seats, but this addition of strategic seats seems to follow along a similar growth plan to what was laid out by United Airlines in their previous quarterly earnings.
That growth plan: increase capacity on routes while also simultaneously filling those seats. This can be achieved by commanding greater market share in existing markets.
This, along with an industry-leading comfortable product in their economy cabin, puts Singapore in an excellent position to bring in more revenue as carriers struggle to get people to pay more for airline tickets.

Hemal took his first flight at four years old and has been an avgeek since then. When he isn't working as an analyst he's frequently found outside watching planes fly overhead or flying in them. His favorite plane is the 747-8i which Lufthansa thankfully flies to EWR allowing for some great spotting. He firmly believes that the best way to fly between JFK and BOS is via DFW and is always willing to go for that extra elite qualifying mile.

Latest posts by Hemal Gosai (see all)