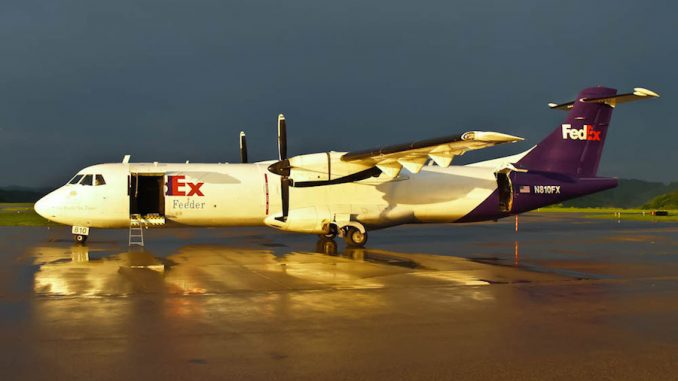 On Wednesday, cargo airline FedEx Express announced that it has placed a firm order with French aircraft manufacturer Avions de Transport Regional (ATR) for 30 ATR 72-600Fs, with options to purchase an additional 20.
While the ATR 72-600F has not yet entered production, ATR plans to fit the aircraft with a large cargo door in the forward fuselage, which many ATR freighter aircraft already have, but also a cargo door in the rear to expedite the cargo loading process.
It is worth noting that the non-freighter variation of the ATR 72-600 is currently in operation. The new 600F, however, will be the first ATR 72 specifically configured for cargo operations.
Additionally, ATR is planning to equip the ATR 72-600F with floor panels that can support up to 74.6 cubic meters of bulk cargo. The aircraft will also be capable of accommodating up to seven unit load containers.
According to FedEx, its current fleet of feeder aircraft cannot carry containers or palletized freight. Therefore, the new aircraft will allow FedEx to service its customers better by easing and streamlining the feeder operation.
The cargo carrier has worked with ATR in particular to increase the capabilities of its feeder carriers, which operate around 300 similar feeder aircraft across 45 countries. Feeder aircraft serve cities that the bigger FedEx aircraft cannot access or do not have enough of a demand to service.
The ATR aircraft are key workhorses for FedEx's feeder operations, as the aircraft are small and nimble enough to land at challenging airports with shorter runways but also can carry more freight than the other feeder aircraft.
"The purchase of new, more advanced feeder aircraft like the ATR 72-600F is the next step in our very successful fleet modernization strategy, which has helped us greatly improve our fuel efficiency and fleet reliability in recent years." said David L. Cunningham, President and CEO of FedEx Express.
The order of the ATR 72-600Fs is just another step in FedEx's efforts to modernize its fleet. The Memphis-based airline is purchasing aircraft with greater fuel efficiency and cargo capabilities, such as Boeing's 777, 767 and 757, and retiring aircraft such as the Boeing 727, MD-10s, and MD-11s.
The first ATR 72-600F is expected to be delivered to FedEx in 2020, with six additional aircraft delivered per year over a five year period. ATR has noted that these will be the first new ATRs to be delivered from the factory in freighter configuration.
ATR is joining the list of aircraft manufacturer who are expanding their production to include cargo planes in addition to their passenger fleet.
An "AvGeek" for most of his life, Akhil has always been drawn to aviation. If there is an opportunity to read about an airline, fly on a new airplane, or talk to anyone about aviation, he is on it. Akhil has been on over 20 different kinds of aircraft, his favorite being the MD-80. Additionally, he has visited 5 continents and plans to knock out the remaining two (Africa and Antarctica) soon. Based in Dallas, Akhil graduated from Texas A&M University with a degree in Management Information Systems and currently works in consulting. His dream is to become an airline executive.
Latest posts by Akhil Dewan (see all)