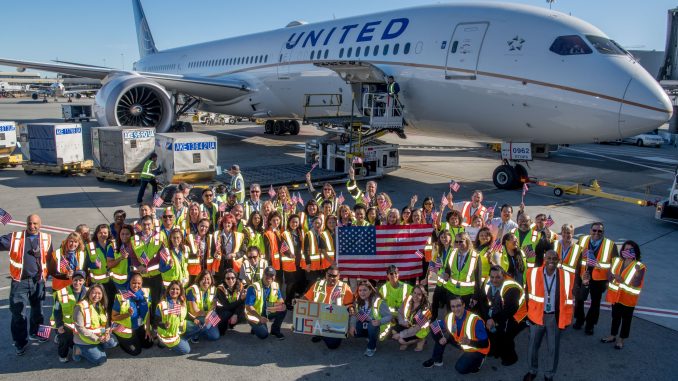 As the official airline of Team USA, United Airlines sent 16 athletes, including members from the Freestyle Ski Team to the Olympic Winter Games on Tuesday.
United flight 893 departed San Francisco at 10:45 a.m. PT, enroute to Seoul, South Korea.
Members of Team USA and the United States Olympic Committee have been traveling through San Francisco on United's flight to Seoul since January 29. The remainder of Team USA departed Tuesday morning, including Gus Kentworthy, a silver medalist freeskier.
The sendoff included United customers and employees, including the airline's CEO, Oscar Munoz. Munoz greeted team members, customers and employees before the flight's departure and assisted in boarding by scanning boarding passes for the athletes.
After boarding was complete, Munoz and other United employees went down to the ramp to push back the aircraft and wave goodbye and good luck to Team USA.
"The Olympics are about bringing the world together, and that is a mission we share at United: to connect people and help unite the world through our service. That's exactly what we will be doing as we fly Team USA, as well as customers traveling to and from the Games to witness this historic event," Mr. Munoz added.
United has been the official airline of Team USA for almost 40 years, flying athletes and their equipment and gear to competitions and Olympic games around the world. Additionally, the airline maintains reservations agents dedicated to the needs of Team USA.
Tyler has been an aviation enthusiast for as long as he can remember and is currently pursuing a Bachelor's degree in Aviation Administration with a minor in Social Media Marketing from Lewis University in Romeoville, IL. His preferred airline is United and his favorite aircraft is the Boeing 777 and 757. Tyler has his fourth-degree black belt in Taekwondo and is unlikely to be seen without Starbucks in his hand. He is also an avid plane spotter. Tyler always has a smile on his face and his eyes pointed skyward.
Latest posts by Tyler Tashji (see all)